Buying and selling property at the same time can be overwhelming stressful.
However, you can mitigate much of that stress by knowing the steps involved ahead of time. In today's post, we'll walk you through the entire process to prepare you for each stage. Once we're done, you'll know exactly how to buy and sell property at the same time, without losing your mind.
Let's get to it, shall we?
How To Buy And Sell Property At The Same Time: Step-By-Step
Get your home valued
Before you can put your home up for sale and begin looking for your new home, you need to know how much your property is worth.
You can go about this in several ways, but asking local estate agents to come and value your home in the flesh is the best by far. Alternatives include getting a rough idea yourself by doing a bit of digging online or opting for an instant valuation. However, these methods will be based on averages and won't take certain criteria into account.
Physical valuations, on the other hand, will give you an accurate representation of your property's value, as the agent will be able to take everything about your home into account.
Check your finances
Before you begin looking for your new home, you must have a rough idea of what you can afford.
With your property valuation taken care of, you'll know what to expect from your sale and will be able to calculate the equity you have in your current home. Add to that any savings you may have to get a better picture of what you'll have available to spend. Remember, you'll still have to pass affordability tests, so this is an important step.
With an estimate of how much you'll have to spend in hand, you can start to look at costs.
Calculate the costs
There's no getting around it; moving home is a costly business.
Getting a rough idea of just how much it's going to cost at an early stage is a wise move and will help you avoid disappointment later on. Think about the kind of deposit you'll need and additional costs such as fees from estate agents, conveyancers, surveyors, and brokers. You'll also need to factor in other costs, such as removals and stamp duty, too.
Once you've got a ballpark figure and know that it's within your budget, you can move onto the next step.
Get your property ready
Next up is getting your property ready for sale.
Now it's time to put yourself in the buyer's shoes. What would put you off of buying your property if you were to view it today? Are there things that can be fixed or spruced up? Putting things right now will serve you well further down the line, so cast a critical eye over your home.
For a detailed look at this step, check out our post on the subject here.
Put your team together
This is a step many underestimate the importance of.
Having the right people by your side is essential if you want to buy and sell property at the same time smoothly. There are three types of professionals most will need to make the move happen, and we've put together guides on each to help you make the right choices.
Check them out below:
Dig out your documents
Having your paperwork in order will help speed everything up.
Not only will you need your title deeds to prove ownership of your home, you'll also need other documents, such as your property's EPC and FENSA certificates. Then there's the buying process and the paperwork you'll need to satisfy your lender. Think things like proof of income and ID.
Check out our piece on legal kerb appeal to learn more about how getting your documentation ready can speed up your sale.
Go to market
This is a twofold step.
First, you'll want to let your estate agent know you're ready to go to market with your sale. Second, you'll want to start tentatively looking for your new home.
It's important to bear in mind that it's always best to sell your home before you buy wherever possible, so don't get carried away and start making offers just yet.
Agree your sale
This step seems simple enough at first glance, but there are certain things to take into consideration.
While it may be tempting to go with the highest offer you receive, that isn't always the best course of action. Sometimes taking a little less can be prudent, especially if you're looking to move home quickly. Examine the buyer's position to see if they are motivated and in a good position to move themselves.
Don't be drawn in solely by pound signs at this stage.
Get your offer accepted
With the sale of your property agreed, it's now time to do the same as a buyer.
As you've undoubtedly gathered by now, buying and selling property is a strategic business, so it pays to know how to maximise your chances of success. Check out our guide to making an offer on a house to ensure you're playing the game correctly. Failing to do so could result in you losing your dream home.
Once you have an offer accepted, ask the seller to take their home off the market to reduce your chances of being gazumped.
Finalise your mortgage
With your offer accepted, you can contact your lender to finalise your mortgage application.
While this should be straightforward, there will be further checks made, so there's always a chance of things falling through. Don't start celebrating just yet!
Start the conveyancing process
The conveyancing process is what takes the most time when buying and selling property, so you want to get the ball rolling as soon as possible.
For a deep dive into what happens and when, check out our step-by-step guide to conveyancing for buyers.
Instruct a surveyor
Although your mortgage lender will insist upon having a valuation carried out by a surveyor, this is for their benefit, not yours.
If you want peace of mind over the condition of the home you're buying, which you should, you'll need to instruct a surveyor yourself. There are different kinds of surveys available to buyers, and each will vary in both thoroughness and cost. The one you decide upon will largely be dependent on the kind of property you're purchasing and it's current state of repair.
Although it may be tempting to avoid the extra cost, having a survey done is widely considered to be money well spent.
Set exchange and completion dates
Once you know everything is in order, you can now exchange contracts and set a date for completion.
Get organised
From here, it's time to start counting down to completion day.
Now you'll need to get packed up and find a reputable removal company to transport all of your possessions from A to B. You'll also need to clean your old home ready for the new owners to move in and sort out childcare, pet sitters, etc. to make sure your moving day goes as smoothly as can be.
Putting in that last bit of effort now will pay dividends when the big day comes around.
Complete!
Congratulations!
Everything has come together nicely and you've successfully bought and sold property at the same time. Time to put the kettle on and have a well-deserved cuppa in your new home.
If you'd like to discuss moving home with Petty Son and Prestwich, we'd be delighted to hear from you. Give our team a call or drop them a line today and we'll do our very best to make your move as stress-free as possible.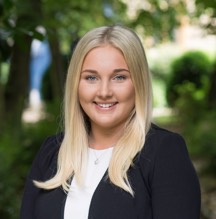 Article By: Francesca Creasey
Francesca has been with Petty's for seven years and has progressed to become our Office Manager, overseeing the daily events and planning what lies ahead for the team each day. She is an F1 obsessive and loves dogs...there are eight pooches in her immediate family!
020 3370 8789 /
Email Directly