Conveyancing is simply the legal process of transferring property ownership from one party to another. It is, however, an incredibly complex part of the home buying journey, which is why you'll need help along the way.
In today's post, we'll explore conveyancing in depth, taking you through every step towards completion.
Let's get started, shall we?
Finding a reputable conveyancing solicitor
Before we get to the step-by-step part of this guide to conveyancing, a quick word on selecting a solicitor. As with estate agents, not all are created equal, so it'll take a bit of legwork on your part to ensure you end up with a good one.
Sorting out the wheat from the chaff is a bit of a task, but we lay it all out for you in our post that specifically deals with finding a good conveyancer. It requires a bit of work, but it's well worth the effort.
Should you go with your estate agent's recommendation?
It's a good question, and it would save you the hassle of going through the steps in the post above. However, just because a firm is recommended doesn't automatically mean they are the best option for you. In fact, it could be that they are the best option for your estate agent, but a million miles away from being your first choice if you actually do a bit of digging.
We explain everything in greater detail here. Check it out before you take the easy option.
The conveyancing process, step-by-step
So, with that little lot out of the way, it's time to get to the conveyancing process itself and our step-by-step guide.
Instructing a conveyancer
As we've already found out, making the right choice is essential when searching for a conveyancer to handle your purchase. Once you're happy with your homework and have found a solicitor you're happy to work with, the ball starts rolling with an instruction.
Instruction, or instructing, is just a fancy way of saying that you want a professional's help to complete a task. In this case, handling the legal aspect of your property purchase.
It's generally considered prudent to have a conveyancer in place before you find somewhere you want to buy, as this will help expedite the purchase and lessen the chances of you being gazumped further down the line.
Read and return initial documentation and pay for searches
Once you have made an instruction and found a home you'd like to buy, your next step will be to read through the welcome pack supplied by your conveyancer, which will lay out their fees and business terms. This will also include information on your instruction, too.
This pack should be read from start to finish, and you should feel free to ask any questions that may arise when you do.
The conveyancer will likely lay out your next steps in the pack. Generally, these will be simple requests for proof of ID and the availability of the funds required to complete the purchase.
On top of this, there may also be some forms to fill out and sign, and a request for payment for the initial searches to be conducted. All of which should be done as soon as you possibly can, as failing to complete and return documentation is one of the primary causes of delays to the house buying process.
Make your offer
With the above taken care of, it's time to make an offer. Once this has been accepted by the seller, the conveyancing process can truly get started.
Inform your conveyancer that an offer has been accepted and give them a breakdown of all questions you'd like answers to before the purchase proceeds. These should be put to your solicitor in writing and can include anything related to the property itself.
Now is also a good time to ask the seller to take their property off of the market.
Get a provisional completion date set
Although it may seem early to talk about the finish line, there's no harm in setting expectations now. Speak to your conveyancer about how they expect the purchase to pan out and ask for a timeline.
Conveyancer requests draft contract and order property searches
The ball is now in your conveyancer's court. They will contact the seller's solicitor to ask for the draft contract, legal pack, and begin ordering property searches that will provide them with details on the local area and highlight any potential issues.
Conveyancer receives responses and completed search results
With the seller's pack and searches received, your conveyancer will then begin to enquire about any issues that may have arisen or been unearthed. This back and forth process can take time, but your conveyancer will continue to ask questions until they are satisfied that everything is in order.
You receive the conveyancing report
As soon as your conveyancer is happy with everything, they will compile their conveyancing report and send it over to you. This report will cover everything to do with the property and the transfer of ownership and should be read thoroughly. This will allow you to create another list of questions, should any come to mind when you're going through the report.
Mortgage finalised
At this stage of the buying process, you'll be ready to finalise your mortgage and hand all the details over to your conveyancer. From here, they will run checks on the offer and arrange for the transfer of funds to be made once completion day arrives.
Review and sign documents
Once all of your questions have been answered and your conveyancer is happy for you to proceed, it's time to review all documentation and sign and return them.
If, however, further questions come up, or you simply think of something you'd previously forgotten, do not hesitate to ask. Despite being late in the day, you are still well within your rights to query anything that is troubling you, so make sure you do before it's too late.
Send deposit to conveyancer
In order to be able to exchange contracts, your conveyancer will need to be in possession of your deposit.
Completion date agreed
Your conveyancer will liaise with the seller's solicitor to agree upon a date for completion. Now you'll need to get buildings insurance set up for your new property, as cover is required before you can exchange.
You're almost there!
Contracts exchanged
Once all parties in the chain (if there is one) are happy, contracts can be exchanged. This will usually be done by way of a recorded telephone conversation between your conveyancer and the seller's solicitor.
This is where you can breathe a sigh of relief. The seller can no longer pull out of the sale without consequences (and neither can you).
Completion statement received
Your conveyancer will send out a completion statement that outlines all of the funds required by them before completion day. These will need to be cleared prior to the day itself, so get this done as soon as possible.
At this point, you'll also be asked to sign a mortgage deed, which will allow the transfer of funds in preparation for the sale itself. Pre-completion searches will be made by your conveyancer as well to ensure nothing has changed after contracts were exchanged.
Completion
With the sellers signed TR1 form in hand, your conveyancer can arrange for funds to be transferred. Once payment has landed, the seller's solicitor will contact the estate agent to release the keys.
Post-completion
Work continues even after you've picked up your keys and moved in. Your conveyancer still needs to pay any stamp duty due and get you registered as the new owner of the property.
Title deeds (the paperwork that formally names you as the owner of the property) should be with you within three weeks from completion. These will be held by your lender until you've paid off your mortgage.
That's it, the conveyancing process is complete. Congratulations, homeowner!
If you're still looking for property, start your search with Petty's. We've been helping people find their dream home for well over 100 years, and we can pair you with your perfect pad. So, if you're looking to buy property in or around the capital, get in touch with our sales team today to register your interest.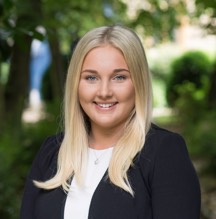 Article By: Francesca Creasey
Francesca has been with Petty's for seven years and has progressed to become our Office Manager, overseeing the daily events and planning what lies ahead for the team each day. She is an F1 obsessive and loves dogs...there are eight pooches in her immediate family!
020 3370 8789 /
Email Directly