Finding the right estate agent can mean the difference between a stress-free and a stressful move, so investing a little time is well worth the effort. But, how do you go about finding the best estate agent to work with? Where do you start if you're selling for the first time?
This guide will take you through the process step by step, and it'll work for you regardless of whether you're selling your home in Wanstead, Widnes, Forest Gate, or Forest Green.
Let's get started!
Weigh up word of mouth
Word of mouth recommendations are worth their weight in gold, both to the agent themselves and the client who receives them. If someone you know and trust has recently moved, be sure to pick up the phone and question them about the experience they had with their agents.
A great way to get a broader, yet still unbiased, opinion is to ask around in local Facebook groups. Where we operate, in and around London's E11 postcode, we have some extremely active and useful ones such as Wanstead Community Hub and Leytonstone Life, so be sure to join yours and ask around.
Do some research
While word of mouth is a great place to start, you should still do a little legwork yourself. Putting all your trust in someone else's recommendation is asking for trouble and you'll kick yourself later if you have a bad experience.
Again, the Internet comes to the rescue in many ways. Nowadays, you can easily check online reviews right on Google's search pages:
You shouldn't take these entirely at face value, though, so be sure to click through and actually read the reviews, rather than just looking at the numbers. Make sure they're coming from legitimate clients and not some bot trying to bolster an agent's image.
There are other shady practices that aren't quite as obvious, but are well worth bearing in mind. For example, a certain online estate agent that shall remain nameless triggers their reviews at the point of sale...not at the end of the transaction. No prizes for guessing why that would be the case!
You can also check out Trustpilot to get another angle on your potential agents and their recent performance. Simply click the link above, enter the agent's name in the search box, and voila, you're presented with another bank of reviews to check out:
Check accreditation
Checking an agent's accreditation is another way to get an insight into how they operate. We'd like to see stricter regulations put in place by the government for estate agents (and letting agents, too), but we are extremely proactive in our approach towards maintaining industry standards and training our staff anyway.
Other agents aren't quite as driven by ethics, unfortunately.
There are several ways you can check accreditation. First, have a look at the agent's website to see if you can find any evidence of their association with industry leaders and governing bodies.
Another way is to simply look in your agent's window. Do they have window stickers stating that they are registered with Propertymark (formerly ARLA and NAEA), the Property Ombudsmen, and such? If not, it could be a red flag.
Finally, check Propertymark's website. They have a Find An Expert page that will enable you to search locally for an accredited agent. It's a good idea to do this final step anyway, as agents could have been removed from their books, yet continue to display the Propertymark logo as if they're still accredited.
Make a shortlist
Now that you've completed your initial round of research, it's time to make a shortlist. This step is relatively straightforward and self-explanatory, so we won't go on too much about it.
One thing you need to bear in mind, however, is that your shortlist should contain at least three agents, but preferably five. This will give you a better idea of how they compare when you move onto the next stage, which is...
Call them up
Now that you have your shortlist in place, it's time to see how responsive they are. Call up your agents and ask them for a valuation. This one phone call can tell you a lot about how those agents operate.
First of all, you'll be able to get a feel for how open and friendly they are. This may not sound like a deal breaker, but when you consider that you could be working with these people for weeks, if not months, its importance becomes all too apparent.
Second, you can assess how much your business means to them by how quickly they're willing to jump in the car and be at your door for a valuation. Obviously, you'll need to expect a small delay at times, especially if the agent is busy and popular in your area, but you should never get the feeling that you're being fobbed off or taken for granted.
Get them round
The next step is obvious, as it follows on from the previous point: getting them round to perform a valuation. This is likely to be the first opportunity you'll have to interact face-to-face with the agent, and it's the perfect time to do a little bit of digging.
Before the valuation date, make sure you have a few pertinent questions prepared so that you can make a judgement on the agents who visit. It's a good idea to choose your questions beforehand and to stick to the same queries for every agent who values your home. That way you can compare apples with apples.
Things to ask include:
How long do properties ordinarily stay on their books?
What is their strategy for homes that aren't selling?
Do they regularly sell at the asking price they set?
What do they base their valuations on?
Are they available at weekends?
How often can you expect to be updated?
How do they view the current market?
Do they live locally themselves?
What is their background in the area?
Armed with a few questions like those above, you'll be able to assess all manner of things, from honesty to hubris. If you feel as though they're making things up on the spot, would you trust them with what is potentially the biggest deal of your life?
Thought not!
Assess the valuations
Once you've had all the agents round and received their opinions on the price they think your property will fetch on the open market, it's time to assess those valuations further.
It's important to be mindful of the fact that some agents will inflate the price they quote you in order to win your instruction. While this is decidedly underhand, it is remarkably common, so it's vital to keep your guard up and not get carried away.
Realistic valuations are far more viable and will work out better for you in the long run. Do your own research by exploring the property portals and looking at other, similar properties in your area to see if any of your shortlisted agents are 'topping up' your valuations.
Don't be afraid to question the valuations, either. If you're not presented with solid evidence as to why a figure has been arrived at, you might want to look elsewhere. Any decent agent will be able to support their valuation with more than just 'this is what we think it's worth'.
Narrow the field
Most of the hard work is now behind you, but for some there may still be a way to go. Therefore, you should consider making that shortlist even shorter at this stage. It's highly likely by now that you'll be able to disregard one or two candidates fairly easily.
That being said, this will be different for everyone, and a lot will depend upon how your agents performed at the valuation. You may even feel as though you already have an out and out winner, one who you know you can work with and feel you can trust.
For everyone else, though, now is the time to narrow the field down to two or three agents.
Visit their office
With your list whittled down to just a couple of estate agents, you should now consider visiting their offices to see how they operate in their own environment.
The things to look out for here are obvious: Is their office tidy? Do they appear to be organised? How many staff do they have? Do they all look busy? Are they friendly and eager to help?
Make sure you've met the whole team before you make a decision. It's not unusual for agents to send out their big guns to valuations as a show of strength, but they often have very little in the way of backroom support. If an agent's manager spends their entire day valuing property, who will be around to answer your queries?
Another point you'll want to clear up is who'll be handling the sale once you've had an offer accepted. They will arguably be the most important member of staff from your perspective, so always ask to speak to their sales progressor. If they haven't got one, you should certainly think long and hard about using that particular agent.
Here at Petty's, we have strength in depth, and we firmly believe that gives us a competitive edge. Everyone we employ undergoes regular training and they bring an extra element to the team, making us stronger as a whole. Not all agents are the same.
Visiting the office will give you a better feel for the agent. It'll also show them that you're highly motivated and willing to do your bit to push the sale of your home through.
Ask the right questions
While you should have already posed a few questions during the valuation, you shouldn't stop there. Now that you have a shorter shortlist, you need to dig even deeper, and there's plenty for you to find out.
Things to ask at this stage include:
What are their fees?
How do fees differ in terms of sole or multiple agency?
What is their tie-in period for the above?
Are there any other costs?
Who will be directly responsible for the property's sale?
Will multiple members of staff be properly briefed on your sale?
How long have they been operating in your specific area?
What does their marketing look like?
Do they utilise all available marketing channels? (Online, offline, social media, email marketing, etc.)
Who handles the viewings?
Do they have a designated sales progressor?
How closely do they work with their vendors during the sales process?
Which redress scheme are they a member of? (Important if things go wrong...you need to know who to complain to!)
All of the above can be asked while you make your visit to the agent's office.
Make a decision
After you've visited your shortlisted agents and gone through the above questions with them, you will have an even better idea of exactly who will be the right fit for you and your property sale.
Now it's decision time.
While there are some definite red flags to be aware of, such as excessive fees or additional and unnecessary costs, for example, you'll need to take the overall picture into account as well. Sellers often find themselves looking at two equally good agents on paper and feel torn between the two.
So, what do you do in this situation?
The answer here is simple. Ask yourself two things: Who do you trust the most? and Can I work with this company for the duration of the sale?
Sometimes these two questions are the most important part of the whole process, so take your time to consider them fully. Once you've made your final decision, commit to it and instruct your agent.
Review and reconsider
Even after doing all of the homework above, things can still go awry from time to time, Therefore, it's always important to keep an open mind as the weeks tick by.
If, say, after a month there doesn't seem to be much happening with your sale, it's time to reassess the situation. This doesn't mean you should automatically ditch your agent, far from it, but you should be proactive in trying to find out why the sale has gone cold. If you don't receive any satisfactory answers from the person handling your sale, then you may want to consider switching.
Remember, too, that it's not simply about the highest valuation or the cheapest fee. You should definitely take things like staff experience throughout the company, marketing power, and the way the agent conducts themselves into consideration as well.
You'll need to feel comfortable working with them. Ask yourself whether you think they'll put their own best interests before yours. Try and get a feel for what the company stands for.
Be aware of any tie-ins or break clauses in your contract, though, as these can come back to haunt you even if you do get the end result you desire - a property with a SOLD board outside.
If you'd like more advice about selling your home or would like to speak directly with one of our experts, please don't hesitate to pick up the phone or pop into our Wanstead office. Nothing gives us greater pleasure than helping people just like you move home, so get in touch with the team today.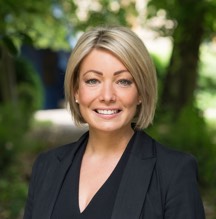 Article By: Pamela Self-Pierson
Pamela has worked in the property industry for 8 years, her self-motivation, dedication and excellent customer care is what makes her stand out from the crowd.
020 3370 8791 /
Email Directly