A good sales progressor can be worth their weight in gold, but many people outside the property sphere are unaware of what they are all about and why they are so important. So, we decided to take an in depth look at the job of a sales progressor to give you an idea of why this key role is so vital to many property sales.
What is a sales progressor?
As the name suggests, a sales progressor is someone who takes on the task of moving a property sale through to completion once an offer has been accepted. This may seem like a simple job, but the truth is somewhat different.
Almost one third of all property purchases fall through, according to Which?, so having someone by your side who can help your sale go through without a hitch is vital. Naturally, there will sometimes be unavoidable circumstances behind a change of heart, such as unforeseen financial difficulties or personal issues, but often it can simply be a case of cold feet.
At present, making an offer to buy property in England or Wales doesn't enter you into a legally binding agreement. At face value, this seems to be a reasonable law, but the truth is it can leave buyers seriously out of pocket and put sellers' plans to move back months. A key reason for such radical changes of heart is the length of time between an offer being made and the exchange of contracts, and that's where your sales progressor will come into their own.
A good sales progressor help shorten the period between offer and exchange by collating all of the sales relevant details and acting as both a point of contact for parties involved in the sale - the seller, buyer, solicitors, other estate agents, etc. - and the person who chases all of these people to get the job done.
Without a designated sales progressor in place, things may get left to the last minute...and that extended time frame can often give either the buyer or seller an opportunity to pull out of the deal.
Any other reasons why a sales progressor is important?
Yes. Not only will your sales progressor help move your sale through faster than if you were without one, they'll also make the whole process less aggravating for you as well! We all know just how stressful moving home can be, but having a good sales progressor with you every step of the way makes the undertaking a lot more bearable.
They'll be the ones who'll handle any hiccups and resolve any problems that may arise. Having one person overseeing the whole process also lessens the chances of crossed wires, which is another common cause of delays when dealing with property transactions.
Isn't a sales progressor just an estate agent?
Not really. A sales progressor is a specific role within the estate agency model, at least it should be! Many agents will try and get their negotiators to perform sales progression tasks too, but we don't believe that to be in the best interest of our business or that of our clients.
That's why we have dedicated sales progressors here at Petty Son and Prestwich. We recognise the importance of the role and give it the respect it deserves.
Take Elaine Robinson, for example. Elaine is one of the best in business and her hard work has helped lots of local people close their sales in record time.
It's easy to spot which desk Elaine, sits at; just look for the one with all the flowers and gifts from delighted clients!
Here are just a few of our sales progressors most recent reviews:
"A special mention should go to Elaine, who progressed the sale; she was relentlessly efficient and I think us and our buyers were highly impressed. " - Paul
"Once offers were accepted, Elaine and Fay worked tirelessly to help us complete what was a pretty eventful sale professionally and within our targeted time-frame. Impressive!!!" - Andrew H.
"Fay, Fran and Elaine were always available and responsive. We wouldn't hesitate to use them again if we ever decide to leave our amazing flat in Snaresbrook. Thank you!!" - Kate P.
As you can see, we believe in providing our clients with experts in each particular discipline, rather than have staff juggle multiple tasks at once. That is, after all, how balls get dropped!
So, if you are looking to buy or sell your home in Wanstead, Buckhurst Hill, or any of their surrounding areas, give us a call today. We're here to help you move.
Wanstead office – 020 8989 2091 or This email address is being protected from spambots. You need JavaScript enabled to view it.
Buckhurst Hill office - 020 8504 5403 or This email address is being protected from spambots. You need JavaScript enabled to view it.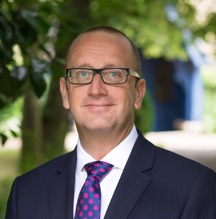 Article By: John Wagstaff
As Petty's MD, John steers the ship. He is, however, first to admit that the team around him run the show, and he's incredibly proud of each and every one of them. Sporty and studious, caring and loyal, John is a father of two wonderful children (and Cooper the dog).
020 3370 8784 /
Email Directly