Converting your property is a huge undertaking.
Reinventing your home requires vision, patience, and diligence, but the rewards can make the effort worthwhile. In today's post, we'll give you a headstart on the inspiration front, as well as guidance on the legal aspects you'll need to keep in mind throughout the project.
Ready to convert? Let's dive in!
Identifying unused spaces
When it comes to home conversions, the first step is recognising the potential in the spaces you already have.
Many homes, particularly older properties, harbour hidden gems in the form of unused or underutilised areas that can be transformed into functional, liveable spaces.
Let's explore some common areas that often go unnoticed or are not used to their full potential.
Attics and lofts
In numerous homes, attics serve merely as storage spaces, often accumulating items that are rarely used.
However, with thoughtful design and planning, attics and lofts can be converted into cosy bedrooms, offices, or even a snug reading nook, adding not only functionality but also value to your home.
Check out Loft Extensions Explained: All You Need To Know About Attic Conversions for a deep dive into this home improvement.
Basements
Basements are often overlooked and primarily used for storage or laundry. Yet, they hold immense potential for conversion into entertainment rooms, guest suites, or personal gyms.
Ensuring they are waterproof and well-insulated will be key to transforming them into comfortable, usable spaces.
For more on upgrading your underground space, take a look at Basement Conversion: Is Converting The Cellar A Seller? next.
Garages
While garages are intended to store vehicles, they often end up as holding areas for miscellaneous items.
Consider relocating these items to a shed and converting your garage into a functional space, such as a workshop, home office, or play area for children.
Explore Improve Your Garage To Up Your Property's Appeal to find out more.
Under-stair spaces
The area beneath the staircase is frequently neglected, yet it can be reinvented in numerous creative ways.
From a compact home office or a mini library to a dedicated space for your pets, the under-stairs area can be transformed into a charming and practical space.
Spare rooms
Spare rooms, like garages, often become a dumping ground for disparate items.
Clearing out any clutter and reimagining these spaces can result in a valuable addition to your home, such as a guest bedroom, a hobby room, or a tranquil meditation space.
Conversion ideas and inspiration
Unlocking the potential of unused spaces can not only enhance your living experience but also add significant value to your property.
Here, we explore a wealth of conversion ideas that can transform neglected areas into functional and aesthetically pleasing spaces.
Attic and loft conversions
Home Office: Create a secluded workspace away from the hustle and bustle of the household, ensuring productivity and focus.
Extra Bedroom: Accommodate growing families or guests by transforming the attic into a cosy additional bedroom.
Playroom for Kids: Design a safe and fun-filled area for children to play and explore their creativity.
Home Gym: Establish a dedicated space for fitness, ensuring convenience and promoting a healthy lifestyle.
Basement conversions
Entertainment Room: Develop a leisure zone with a home theatre, gaming area, and comfortable seating for family movie nights.
Wine Cellar: For the connoisseurs, a basement can be the perfect spot for a stylish wine cellar, ensuring your collection is properly stored.
Guest Suite: Provide privacy and comfort for your guests by converting the basement into a self-contained living area.
Home Spa: Create a sanctuary of relaxation with a home spa, complete with a sauna, jacuzzi, and a tranquil relaxation area.
Garage conversions
Workshop/Studio: For the creatively inclined, transform the garage into a workshop or studio, providing a dedicated space to immerse in your projects.
Home Cinema: Bring the cinematic experience home by converting the garage into a home cinema, complete with a projector and plush seating.
Fitness Area: Design a home gym with adequate space for all your fitness equipment and activities.
Storage and Organisation Space: Implement smart storage solutions to organise household items, seasonal decorations, and outdoor gear efficiently.
Under-stair spaces
Reading Nook: Craft a cosy reading nook, adorned with cushions, lighting, and your favourite books.
Mini Library: Display your book collection in a stylish mini library, ensuring they are always within reach.
Pet Area: Design a comfortable and safe space for your pets to relax and sleep.
Storage Solutions: Implement clever storage solutions, such as pull-out drawers or cupboards, to store shoes, coats, and other items neatly.
Spare room transformations
Guest Room: Ensure your guests feel welcome with a well-designed, comfortable guest room.
Craft Room: Dedicate a space for your hobbies, be it crafting, sewing, or art, ensuring all your materials are organised and accessible.
Meditation/Yoga Space: Create a serene space to practice mindfulness and yoga, promoting mental and physical well-being.
Home Office: Design a productive and inspiring workspace to enable remote work or manage household affairs.
Legal and regulatory considerations
Taking on a home conversion project is not merely about design and construction.
It's imperative to navigate through the legal and regulatory framework to check your project adheres to the stipulated guidelines and avoids any future complications.
Below, we delve into some key considerations that homeowners in the UK should be mindful of when undertaking a conversion project.
Planning permissions in the UK
Before initiating any conversion project, it's crucial to ascertain whether planning permission is required. Various factors, such as the scale of the project, its impact on neighbours, and adherence to building regulations, influence this.
For detailed information and to apply for planning permission, visit the gov.uk's Planning Permission page.
Building regulations
Building regs are established to ensure that any construction work is conducted safely and complies with the established standards. These regulations encompass various aspects, such as structural integrity, fire safety, energy efficiency, and accessibility.
The Approved Documents provided by the UK Government offer comprehensive guidelines on adhering to building regulations.
Insurance implications
It's essential to inform your home insurance provider about your conversion project to understand how the work might impact your policy.
Make sure you're covered during the construction phase and adjust your policy accordingly to reflect the changes in your property post-conversion.
Neighbour considerations
Maintaining a harmonious relationship with your neighbours is vital. Inform them about your planned conversion, and be mindful of how the project might impact them.
Consider aspects like shared walls, potential disruptions, and see to it your project doesn't infringe on their property rights.
That's it for another week. If you're looking to move home in or around the capital, East London estate agents Petty Son and Prestwich have been helping people make their move happen since 1908 and we'd love to assist you, too.
Give our fabulous sales team a call today to find out why our family-run business has stood the test of time and discover what we can do for you.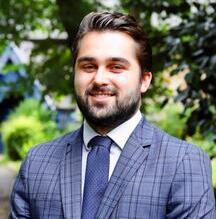 Article By: Daniel Roe
Daniel is a true team player. As a Sales Negotiator for Petty's, his day-to-day tasks include everything from conducting viewings to liaising with clients...all of which are a far cry from his previous profession as a hairdresser.
020 8530 9924 /
Email Directly