Regardless of whether they are used to house your car or your clutter, garages are an asset to your property. The additional space they provide makes them attractive to buyers, but are you really making the most of yours?
Even tiny tweaks here and there can make a huge difference, and bigger projects can provide a massive return on investment to those willing to undertake them.
In today's post, we'll look at some transformative changes you can make to your garage and some smaller plans more suited to those who don't mind a bit of DIY, all of which will help sell your home when you go to market.
Let's get to it, shall we?
Don't need a garage? Transform it
Traditionally, garages were homes to cars, but they are increasingly being used for alternative purposes. Modern automobiles are far less prone to rust and will (mostly) start first time, whatever the weather, so the need to house them 'indoors' is no longer necessary.
The garage, therefore, is now free to be used in other ways...and the possibilities are endless. Here are just a few ideas you can run with:
Home office
Gym
Utility room
Workshop
Yoga studio
Games room
Mudroom
Soundproof music room
Playroom
Art studio
Additional bedroom
Laundry room
Alternative to the humble shed
Smaller garage improvements to consider
As you can see, there are a lot of options available if you want to upgrade your garage into an entirely new space. There are, however, lots of smaller projects you can tackle that'll still improve your garage and make your home, as a whole, more attractive to buyers.
Let's take a look.
Upgrade your garage door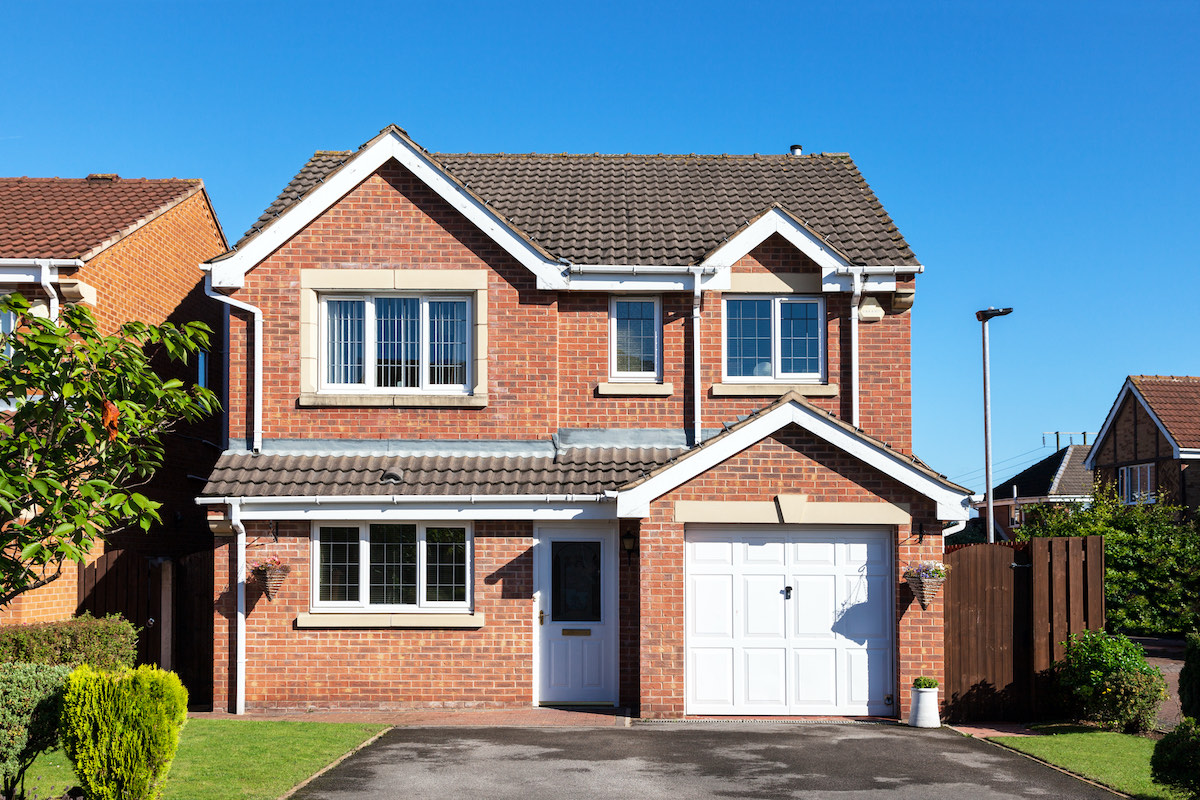 Old garage doors are notoriously difficult to deal with, and many fall into one of two camps: heavy wooden double doors that stick or a twisted aluminum lifter that is as stubborn as a mule whenever you need to open it quickly. (Hello, rainy days!)
If you look at your garage door and feel your shoulders slump whenever you need to open it, get it changed. Garage door 'technology' has come on a bundle and finding a functional garage door is no longer difficult nor expensive, so this is a simple upgrade that can have a dramatic impact on both your property and your sanity.
New garage doors come in a wide range of designs and colours, but it's vitally important to keep your home's 'look' in mind when you're deciding on which to go for. Buy something that complements the exterior, rather than stands out against it.
Add another door, just for humans
Many garages will already have a secondary door for access, but not all. For some, the only way in and out will be via the garage door itself, which is far from ideal. Adding another door, that either leads directly into the property or the garden, will make the space more user-friendly and, therefore, more useful.
Coat the concrete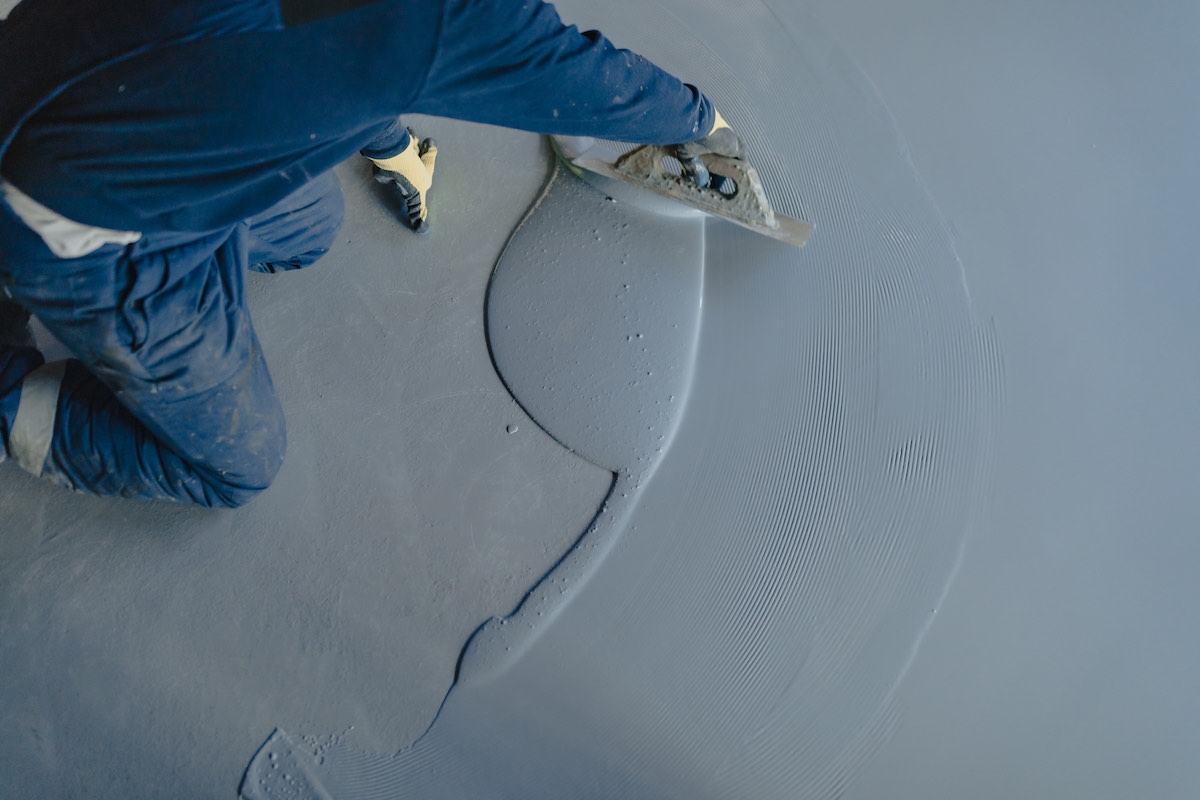 Obviously, if you're going to be transforming your garage into something snazzy like a home office, a yoga studio, or a playroom, the flooring will be part of your overall project's design. However, even if you plan to keep it for cars or general storage, thinking about the floor makes a lot of sense.
Old garages generally have bare concrete underfoot, and they aren't the easiest to keep clean. Concrete is porous, so any unattended spills will lead to stains. Even regular sweeping out never seems to get rid of the dust and debris. The answer? Coat the area with garage floor paint.
These heavy duty paints are generally two-part epoxy resins that are both spill resistant and easy to clean. They also have the additional benefit of giving your floor a gloss-like finish, which helps counter common low-light issues found in windowless garages a little as well.
Curb condensation and deter damp
We all know that condensation in the home itself is to be avoided, but garages often get left to their own devices. This is a mistake you'll want to avoid.
Thankfully, simple insulation and good ventilation is all that's needed to help keep the dreaded damp at bay, and you'll also make the space a more comfortable place to be in the process. That will certainly be welcomed if you use the garage as a workshop, art studio, or anything else that means you'll be spending extended periods of time there.
Install some, or more, sockets
While it's relatively rare to find a garage without any electrical outlets whatsoever these days, there are still some that are without power. If yours hasn't got any sockets available it dramatically cuts down the ways in which the space can be used, so get some put in pronto.
Even if you already have a socket or two, ask yourself whether or not your garage would benefit from having more installed. If the answer is an unequivocal 'Yes', then it's fair to say that buyers will agree, so having them put in before going to market will generally be a good idea.
Lighten up
Poorly lit areas are never inviting, so make sure your garage is well lit. Dark garages are always underutilised, can be unsafe, and will make searching for stuff a nightmare. If your garage lighting isn't up to scratch, make improving it a priority.
Paint it bright
Another way in which you can make that windowless space a lot brighter is to give it a lick of paint. Garages are often left undecorated, and the combination of bare brick, concrete, and poor lighting add up to a dark and dingy spot you'll only go to if you really need something.
Get the brushes out one weekend and see just how transformative a high white or other, equally bright, fresh coat of paint can be.
Do away with clutter, systematize your storage
While it may be tempting to chuck everything in the garage and then shut the door and forget about it, when it comes to making your home ready for sale, clutter is the enemy.
The Internet is awash with smart storage ideas for the garage, so we won't go over them all here, but one of our favourites is to reuse old kitchen cabinets. These ready-made storage units are ideal for the garage, and if you are redoing your kitchen you'll have plenty at your disposal. There's often very little wrong with them, so why send them to landfill? Make use of them instead!
Another idea we like a lot is to create zones in your garage. Rather than just plonking stuff down willy-nilly, organise and systematize your storage into zonal areas instead. Splitting your garage up in this way will help keep things tidy and allow you to put your hand on what you need far faster than if it was hidden in amongst everything else.
Keep on top of it
Our final piece of advice isn't really an improvement, but more of a maintenance thing. Once you've got your garage how you want it, keep it that way by revisiting it often and clearing out anything that doesn't need to be there.
Garages are easy to leave, sometimes for decades, but make a point of cleaning and decluttering regularly and you'll be repaid with a space that you won't dread being in.
Live in Wanstead or the surrounding areas of E11? Thinking of selling your property, but not sure who to turn to for advice and guidance? We can help.
Petty Son and Prestwich have been helping people just like you move home for well over a century. With 100+ years of operating in East London and West Essex, we know the local market inside out and are seen by the community as a name you can trust. Call us today to find out why.