If you need to increase your property's storage space, we have a few answers for you in this week's post. Regardless of whether you're a homeowner or a tenant, we've got some inspiring ideas for you to mull over.
Granted, some are huge projects, but many are extremely simple to achieve...and they won't cost the earth, either. It's often a case of rethinking things and making use of what you already have.
Before we get started, though, let's have a look at a couple of storage-related questions first.
Can a lack of storage negatively affect property value?
In short, yes, but it can often be an indirect reason that affects the property's value. Although it sounds incredibly corny, home buyers are often looking to upgrade their lifestyle as much as they're seeking out new bricks and mortar. This is why home staging has become so popular - you're selling an aesthetic, or feel, as much as the tangible asset itself.
With this in mind, presentation is obviously key, and storage plays a huge role. There's no doubt about it, houses that are free from clutter are easier to sell...and will often achieve greater sale prices than those that are not.
Naturally, there's a ceiling for all homes that is determined by factors such as location and size, but small details like presenting the property well can definitely push the purchase price northwards.
Why has storage space become so valuable?
Two things have changed dramatically in the last 50 years: property sizes have decreased, while the stuff we own has grown.
With every passing decade, property developers have been making new build homes smaller, yet homeowners and tenants generally have a greater number of possessions to store these days. It's little wonder, therefore, that storage is high on everybody's 'must-have' list when viewing properties.
So, now we know why storage is at a premium in many properties, it's time to explore some of the ways in which you can increase the storage space in your home.
Increase living space with extensions
The most effective way to increase storage space is to expand the living space itself. Now, we're fully aware that this is not going to be within everyone's reach and totally off of the vast majority of all tenant's radars, but it is the best solution by far. (Don't worry, we've got some simpler storage tips coming later).
With that little disclaimer out of the way, here are some of the most common living space extension ideas that will, in turn, increase your storage space:
Loft conversions
Nothing new here, but loft conversions can be a great way to add space and improve your property's value. As with most of the projects in this section of the post, loft conversions will set you back a pretty penny, but their return on investment can be equally handsome, with a 20% increase in property value not uncommon.
Conservatories and orangeries
Again, adding a conservatory isn't exactly groundbreaking, but their addition can extend your floor plan considerably and open up a lot of extra storage options. Conservatories and orangeries work out to be pretty good value for money, too. If you're willing to stump up the initial cost, they can return a whopping 108% improvement on your investment.
Outbuildings
While outbuildings may bring thoughts of cold, soul-destroying places to relieve oneself to some, the modern take is quite different.
In fact, outbuildings are seriously popular at present, and that trend looks set to continue with gyms and home offices becoming a necessity rather than a luxury to many of us as we work through the pandemic. Move these areas outside and you've gained a ton of space inside.
Basement conversions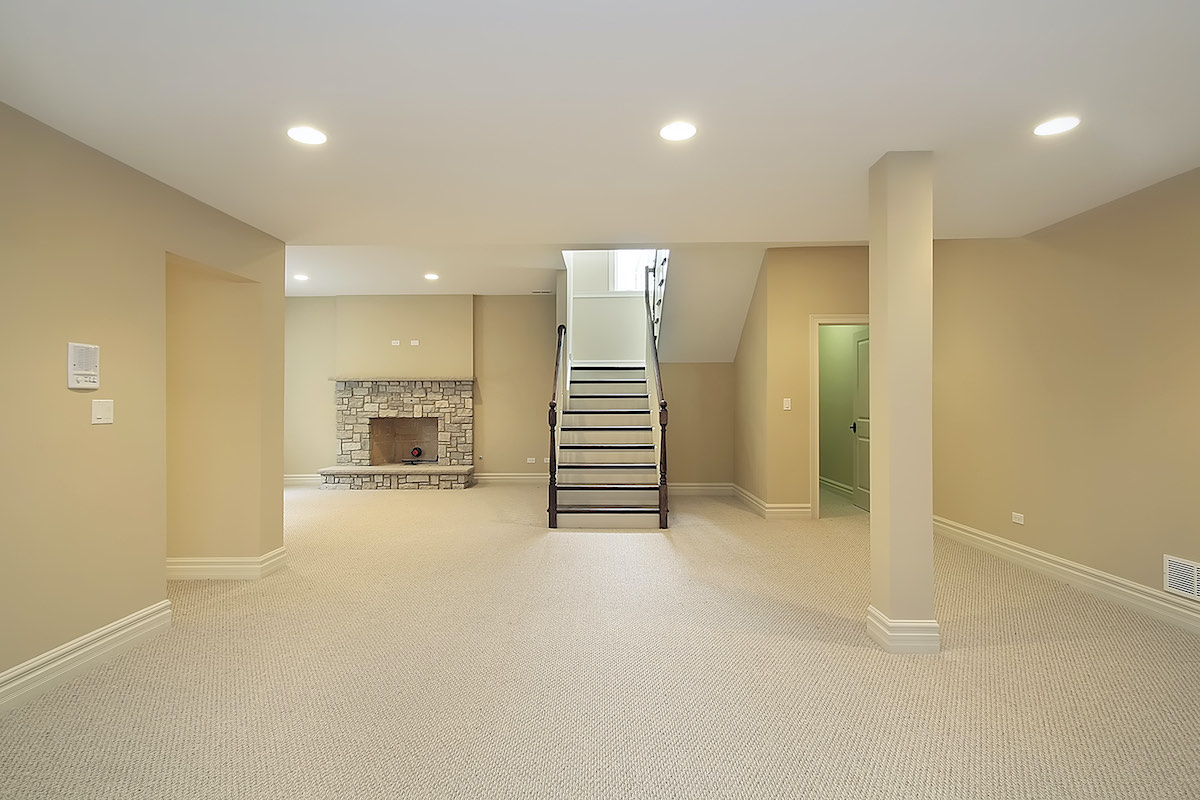 Basement conversions are an excellent way to expand suitable properties, but they're also one of the most difficult projects to get right. The variables are many and the upheaval to the existing living quarters above ground sees most people move out of their home until work is completed. This is not a project for the faint of heart.
That said, if you have the stomach (and the pocket) for it, a cellar transformation can be an outstanding way to up the living space and increase your storage options. For a more in depth look into everything you need to consider before you proceed, check out this post: Basement Conversions - Is Converting The Cellar A Seller?
Rethink your garage
If you have a driveway or another type of parking space for your property, the chances are good that your garage has turned into something that resembles an episode of Hoarders rather than a neat and tidy spot to park your vehicle. While this is indeed a form of storage, it's typically not all that efficient...or pretty!
Rethinking how you use your garage can have a big impact on how your property is presented when the time comes to sell, and it'll also help increase your storage space in the here-and-now, too.
Add a porch
Regardless of whether you have a hallway or your front door opens into the living room, adding a porch will allow you to keep shoes, boots, hats, coats, scarves, dog leads, and no end of other outdoor paraphernalia where it's needed and out of sight once you're indoors.
As an added bonus, having a porch built isn't all that expensive, but can make a massive difference to the way your property feels when you want to sell up. It'll also help with heating bills in the winter months, too.
Add storage space with clever design hacks and products
For those who either don't fancy the expense or hassle of building work, or simply can't entertain such home improvements due to living in rented accommodation, there are still plenty of options available if you want to increase your storage space.
Make it multifunctional
Whether it's an entire room or just certain items of furniture situated within it, multifunctional is your friend if you want to increase storage space. In terms of multifunctional rooms, think kitchen diners or creating a corner in your bedroom for a home office. Just be sure to keep that clutter in check!
Multifunctional furniture options are seemingly endless at the moment, with thousands of different products available. From good old fashioned storage beds to the likes of Daniel Pearlman's coffee table (that's also an armchair and a side table, too), the ways in which you can creatively expand your storage options are unlimited.
Do away with dead space
Needless to say, dead space is wasted space. Identifying dead space, however, can be tricky. Obvious places to consider would be areas underneath staircases or awkwardly shaped corners, with less obvious being 'knee walls' that have a void behind them.
The latter can accommodate recessed drawers that nicely sit flush with the wall, giving you a lot more storage without encroaching on the existing floorspace. This can call for a little 'outside the box' thinking, but the rewards can be great for those who get it right.
Call on your ceiling
Ceilings for storage? Yes, but only in certain parts of your house. Kitchens are perfect, especially for big, bulky pots and pans, but bathroom ceilings can also be put to good use as well.
Make your walls work
Shelving is about as old as storage gets, but it's stood the test of time for a reason: it works! You can, however, put a more modern twist on things, though. How about some inset shelving on the corner of the wall that you know has space behind the plasterboard? Or, try an invisible book shelf for that ever-impressive floating effect.
Create less predictable portals
In and of themselves, they may not give you any extra storage space, but changing up your doorways, and more importantly the doors that sit within them, will add to the spacious feel you desire.
Yep, we're talkin sliding doors here, people. These have been made popular by the tiny house tribe, but they can work brilliantly anywhere. Oh, and the kids won't be able to slam them so easily, either!
Utilise the unseen
Talking of doors, do you make use of the shut side of your closet and cupboard doors? No? Well, you're missing a trick. Whether it's an over-the-door hanger for coats or dressing gowns or a spice rack for kitchen cupboards, getting creative with these generally unseen spaces can free up a lot of space elsewhere.
Get organised
Storage areas have a tendency to get cluttered if they're not managed properly, so having a system in place can be invaluable when you want to maximise the storage space you already have.
Items such as baskets, containers, buckets, and trays can be a great help here, with designated areas for specific stuff. Breaking your possessions down in this way will help you lay your hands on things quickly, avoid clutter forming, and can even stop you buying something you already own!
Take tips from tiny homes
Finally, if you want more storage tips and inspiration, follow some tiny home owners on Instagram and Pinterest to pick up on how they manage to store everything they own in very limited spaces. You'll be amazed at some of the ingenious ways in which they create storage space where others wouldn't have thought to look.
That's it for this week, we hope you found it useful. If you'd like more property-related posts in your inbox every Monday, be sure to subscribe to our weekly newsletter.