In today's post, we explore your options if you're thinking of selling without the help of a traditional estate agent.
Unsurprisingly, we'll also put forward an argument as to why you should think long and hard before you do so. Selling property can be daunting and time-consuming, especially if you choose to go it alone, so you'll want to have all the information before making your final decision.
By the end of this article, you'll have a better understanding of the pros and cons of each approach, and be better equipped to make an informed decision when it comes to selling your property.
Can you sell property without an estate agent?
Selling your home without the help of an estate agent is definitely doable.
However, it's neither easy nor convenient. Like making a cup of tea without a kettle. You can do it, but for most of us, it probably isn't the best option.
So, what are your options if you want to avoid using an estate agent to sell your home?
Let's take a look at a few and their associated pros and cons:
Private sales
One option is to go it alone and find yourself a buyer independently.
The rise of social media and online sales platforms has made this easier, but it still isn't easy. You'll have to handle all of the marketing yourself, including writing copy and taking photographs, as well as the entire sales process. Unless you are a property expert, there are inherent risks associated with going down this route.
It'll also take up a fair amount of your time, too.
Pros
No estate agent fees
Complete control from start to finish
Cons
Greater time commitment
Limited visibility and reach
Potential for overpricing or underpricing
Online estate agents
Another option available to you is an online estate agent.
Yes, you will still effectively be using an "estate agent", but online agents and traditional agents are as different as chalk and cheese. Their rise in recent years has been largely due to clever marketing and low fees, but it's important to remember that you get what you pay for. In most instances, this isn't very much when talking about online estate agents.
For a more in-depth comparison, check out our article on the subject: Online Vs High Street Estate Agents
Pros
Cons
Limited face-to-face contact and personal support
Lower levels of expertise and local knowledge than traditional estate agents
Some online agents may charge additional fees for certain services, such as accompanied viewings or sales progression
Auctions
There's no doubt about it, auction houses can provide sellers with quick and straightforward sales.
That being said, there are plenty of disadvantages to taking this road. Especially for those looking to make a regular sale of a regular house. Auctions are usually the preserve of fixer-uppers, unique homes, and those mired in legal complications.
If you think you'll basically be entering your home onto an eBay for property, think again.
Pros
Fast sales and quick payments
Competitive bidding can force prices upwards
Transparency and certainty, as the terms of the sale are agreed in advance and there is no chain or risk of the sale falling through
Cons
Many auction properties aren't eligible for mortgages
Auction fees can be high, usually between 2% and 4% of the sale price
You'll likely incur additional costs such as legal fees and marketing expenses
No guarantee that the property will sell on the day of the auction, or at the desired price
The property may attract a smaller pool of potential buyers, as some buyers may be put off by the competitive nature of auctions

For the most part, sticking with a traditional estate agent remains the most reliable, convenient, and effective route to a successful sale. Yes, there are some benefits to selling property independently, but there are also significant risks, drawbacks, and limitations as well.
Our next section will highlight what we mean.
Why use a traditional estate agent?
For those of you who still need convincing, here are some of the main advantages to sticking with a High Street agent whenever you want to sell your home.
Expertise and local knowledge
Unsurprisingly, when you choose a local, independent estate agent such as Petty's, you'll be presented with years of regional knowledge and know-how.
They will be on top of local trends, property values, and buyer preferences, which will put you and your home ahead of those who choose to sell via an alternative route. Better marketing strategies, more accurate valuations, and ready-made access to buyers waiting for homes like yours to hit the market are just a few solid reasons to take the traditional approach.
Accurate valuations
Customised marketing strategies
Access to a network of potential buyers
Exceptional knowledge of the local area
Time and convenience
A good traditional estate agent will take care of everything for you.
This means handling tasks such as marketing, viewings, negotiations, and all the legal aspects associated with property transactions. Because they will manage the minutiae, you'll save a lot of time and effort…and keep your stress levels in check, too.
The sales process, including marketing, viewings, and negotiations will all be taken care of
Managing legal requirements, such as providing necessary documents and working alongside your conveyancing team
Dealing with potential buyers on your behalf, including screening them for suitability and handling any enquiries they may have
Professionalism and accountability
It pains us to say it, but many modern alternatives to the traditional estate agency model leave a lot to be desired when it comes to professionalism and accountability.
Petty Son and Prestwich have been operating for well over a hundred years, and our success largely stems from the way we treat our customers. Unfortunately, this level of care and attention often doesn't extend beyond the High Street.
Ethical conduct and professional competence are the foundations we've built our family business upon, and we know this provides our vendors with a degree of reassurance that is lacking elsewhere.
Adherence to ethical and professional principles
Full accreditation to industry bodies and trading standards
Access to redress mechanisms in case of any disputes or complaints
A commitment to providing high-quality service and support throughout the sales process
Maximising sale price
As a seller, it's only natural for you to want to achieve the best possible price for your home.
Instructing a traditional estate agent, for the reasons mentioned above in our expertise and knowledge section, is the best way to do just that.
Reliable valuations based on extensive market knowledge and expertise
Skilled negotiation with potential buyers to secure the best possible sale price
Expert advice on pricing strategies, such as setting an asking price and considering offers
How to find the right estate agent
Hopefully, we've put forward a compelling case for High Street estate agents.
However, it would be remiss of us to say that all traditional estate agents are created equal. Unfortunately, they are not, and some can be incredibly shady characters indeed. So, how do you go about sorting the wheat from the chaff?
To give you a full rundown would make this article way too long. But, in true Blue Peter fashion, here's one we made earlier: How To Choose The Right Estate Agent, Step By Step
If you need any further advice or would like to ask us about moving home, get in touch. We love helping people move here at Petty's, so pop in and see us or give our team a call to find out exactly how we can help you sell your property and find your dream home.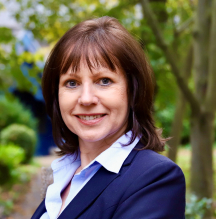 Article By: Catherine Bransgrove
Catherine has been in estate agency since 1986 and her local knowledge is second to none, despite being from Bonnie Scotland! A Loughton resident of 33 years and one of the finest Sales Managers there is, Catherine is a true professional.
020 3370 8781 /
Email Directly