There are plenty of reasons why you might want to replace your old mortgage, but if you're considering going through the process for the first time you may find yourself asking, How does remortgaging work?
If you're unsure what the remortgaging process entails, or even what remortgaging means, this post has been written for you.
Let's start at the beginning, shall we?
What does remortgaging mean?
Remortgaging means taking out a new mortgage deal to replace an old one you have on an existing property. You can either remortgage with your current lender or find yourself a new mortgage provider.
Why would you want to remortgage?
There are several reasons why people remortgage their properties, but the most common is probably that their fixed rate term is coming to an end. When the fixed term runs out, lenders will invariably switch borrowers over to their own standard variable rate (SVR), and that could result in a hefty increase in monthly repayments.
Other reasons could be a simple mortgage move in order to secure a better deal elsewhere or a desire to raise funds by borrowing more money against the property for, say, home improvements or starting a family.
How does remortgaging work? A step-by-step guide
Now we've covered the what and why, it's time to take a look at how remortgaging works. Here's a step-by-step guide to the entire remortgaging process:
Do some initial research
Before you commit to anything, it's important to get a feel for the mortgage market and your position in it. Speak to your current lender to see what they can offer you and to ask whether or not switching away from them is actually possible at this stage. You should also enquire about costs, too, as these can often prove to be prohibitive and negate any gains you may get from your new mortgage deal.
Once you've spoken to your existing mortgage provider, you can then get an overview of the market as a whole. Comparison websites can come in handy for this, but be sure to check a few of them before making your final decision. Many of these sites are now no longer independent and will only show deals from certain lenders, so do your homework.
Get your paperwork in order
If you think the cost of moving mortgages will suit and there are mortgage products on the market that will be beneficial enough to proceed, it's time to make sure your paperwork is up to scratch. As we mentioned in our how to apply for a mortgage guide, preparing a documents folder ahead of time will help speed the process up later on.
Below are some of the things you'll need to have to hand:
Current account bank statements (preferably six months, but some lenders will accept three)
Passport and/or driving licence
Statements from savings accounts, including ISAs etc.
Any utility bills you have
Payslips, usually the last three months
Proof of benefits you are receiving
If self-employed, two to three years of accounts from your accountant
SA302 if you are self-employed or have more than one form of income
P60 from your employer
Get your closing balance
Another piece of documentation you'll need is a redemption statement from your current lender. This lays out exactly what you owe, including any fees that will become due when you switch.
Having this figure ready is vital, and it's best to do it sooner rather than later. Some lenders can be frustratingly slow at providing your closing balance, so get your request in early.
Find a mortgage broker
While comparison websites are great for research purposes, nothing comes close to the specialised knowledge and advice you'll receive if you employ the services of a professional independent mortgage broker.
Not only will a reputable mortgage broker have access to the entire market, many will usually be able to secure deals that simply aren't available elsewhere. So, although hiring a mortgage broker to handle your remortgage may seem like an unnecessary expense, doing so can actually save you money in the long run.
Changing lender? Instruct a solicitor
Not necessary if you are sticking with your existing lender, but if you intend to move away from them you may need to instruct a solicitor to handle all the legal aspects associated with mortgaging a property.
Some lenders will include a legal package for free, but not all. Those that do offer free conveyancing services will insist on you using their solicitors, and it's fair to say they are not paying them premium rates. This could result in a longer wait for things to get done.
If you do require a conveyancer, read our guide on finding a conveyancing solicitor to make sure you get a good one.
Get a Mortgage in Principle
By now, you'll likely have a mortgage product lined up for you by your broker, so it's time to get a mortgage in principle (sometimes referred to as a decision or agreement in principle as well).
This document lays out what the mortgage provider in question is willing to lend, but it's important to remember that this isn't a legally binding agreement or an offer. Think of it more as a guideline.
A mortgage in principle usually lasts somewhere in the region of two to three months.
Have your property valued
Your lender will arrange to have your property valued to ensure that it's really worth enough to warrant the loan. Be aware that, in some instances, you may have to stump up the valuation fee yourself.
Confirm your mortgage application
Providing you've got a mortgage in principle in place with the lender you want to go with, all you'll need to do at this stage is cross a few t's and dot a few i's, as you will have already submitted much of the documentation already.
If you decide to skip the mortgage in principle stage and go straight to the application, you'll need to pass affordability tests before any offer is made.
Check your mortgage offer
Once you've submitted your application to remortgage and your prospective lender agrees to lend, you will receive a formal mortgage offer from them. This lays everything out in black and white, including the amount they are willing to lend, what the current value of the property is, and any further conditions that may be attached to the loan.
It can be incredibly tempting to get lazy at this stage, but don't. Go through this document with a fine-tooth comb to ensure every aspect of it is correct. If you spot any errors, or if something has changed in the intervening period, you must inform the lender straight away. Speak to your solicitor if you are unsure of anything.
Solicitor finalises your old mortgage (if you're switching lenders)
Getting very close now! This penultimate step is where your solicitor receives funds from the new lender in order to pay off your old mortgage provider.
Land Registry records new mortgage details
The final stage. Your solicitor will contact the Land Registry and get the new details registered. Title deeds may also be transferred across to your new mortgage provider and the deal will be finalised.
How long does it take to remortgage property in the UK?
From the point of application to finalisation, remortgaging property in the UK usually takes somewhere in the region of four to eight weeks to complete.
Individual circumstances can come into play here, but one of the most important things you can do to get things moving quickly is have all your documentation ready right from the start. Being able to immediately supply your lender or broker with the paperwork they need can expedite proceedings considerably.
Things to ask yourself before remortgaging
Regardless of whether you're confident that you want to go ahead or still mulling things over, you should always ask yourself the following questions before remortgaging your home:
Will there be any associated costs if I leave my current mortgage?
As mentioned above, moving away from some mortgages can be costly. Contact your current lender to find out exactly what switching your mortgage entails in terms of fees.
Is my credit rating up to it?
Check your credit score with credit reference agencies such as Equifax, CreditKarma, and Experian before going forward with any remortgage application. Having a poor credit rating will likely scupper your chances of getting a new mortgage.
Beyond that, you should also check that all of your details are correctly logged with the credit reference agencies, as any discrepancies - such as incorrect addresses or phone numbers - can lead to your application being rejected.
Has my profile changed in the eyes of lenders?
Think of things like employment…have you switched jobs lately? Even more important, have you gone self-employed since you took out your existing mortgage? Changes to your personal circumstances can impact your affordability rating in the eyes of lenders.
Why am I remortgaging, really?
This sounds daft, I know - surely you must already be aware of why you want to remortgage?! Well, sometimes we can get caught up in an idea without truly taking the time to think things through. Do you really need to remortgage? Is it your best option? Have you looked at other avenues? Grill yourself to find out.
What is my Loan To Value (LTV) and can I do anything to improve it?
The greater the amount of equity you have in your property, the lower your loan to value (LTV) will be…and a lower LTV means lower interest rates, so this number is all important.
LTV is generally calculated in bands, and while this may vary slightly depending on who you quiz, the big numbers to bear in mind are usually 90%, 80%, 75% and 60%. If your LTV currently stands at 76%, bringing it down below the 75% mark can make a dramatic difference to the mortgage deals you'll have at your disposal.
The problem you'll face is that lowering your LTV isn't straightforward and your options are somewhat limited to two choices: Borrowing less or getting a higher valuation.
While you're not selling your property in the conventional sense, you are trying to sell it to the valuer…especially if you set the bar high in your application. So, go through our guide on how to prepare your home for sale to give yourself the best chance of persuading the valuer that your high estimate is indeed correct.
How much can I borrow?
You may be thinking this decision will be down to the lender, which it is, but you should ask yourself the same question before you even think about applying for a remortgage deal.
Why? Because if you run the numbers and it doesn't look affordable in terms of repayments, then your prospective new lender will likely turn you down. Knowing in advance will save you a lot of time and effort. It's also worth considering how changes in interest rates will affect you moving forward, too.
That's it! Your guide to how remortgaging works is complete. We sincerely hope you found it useful.
If you are thinking of remortgaging to buy a new home, which is definitely something you can do, think of Petty's. We've been helping people just like you turn their property dreams into reality since 1908, and we'd love to welcome you into our family.
Give our friendly sales team a call today to find out why we are regarded as one of the premier estate agencies in the capital.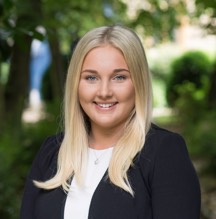 Article By: Francesca Creasey
Francesca has been with Petty's for seven years and has progressed to become our Office Manager, overseeing the daily events and planning what lies ahead for the team each day. She is an F1 obsessive and loves dogs...there are eight pooches in her immediate family!
020 3370 8789 /
Email Directly