New homes are built by builders. Builders are human. Humans make mistakes. It shouldn't, therefore, come as much of a surprise to find out that your new build home isn't exactly as you'd like it to be right from day one.
So, how do you ensure your new home meets your expectations? A new build snagging list is the best place to start.
What is snagging?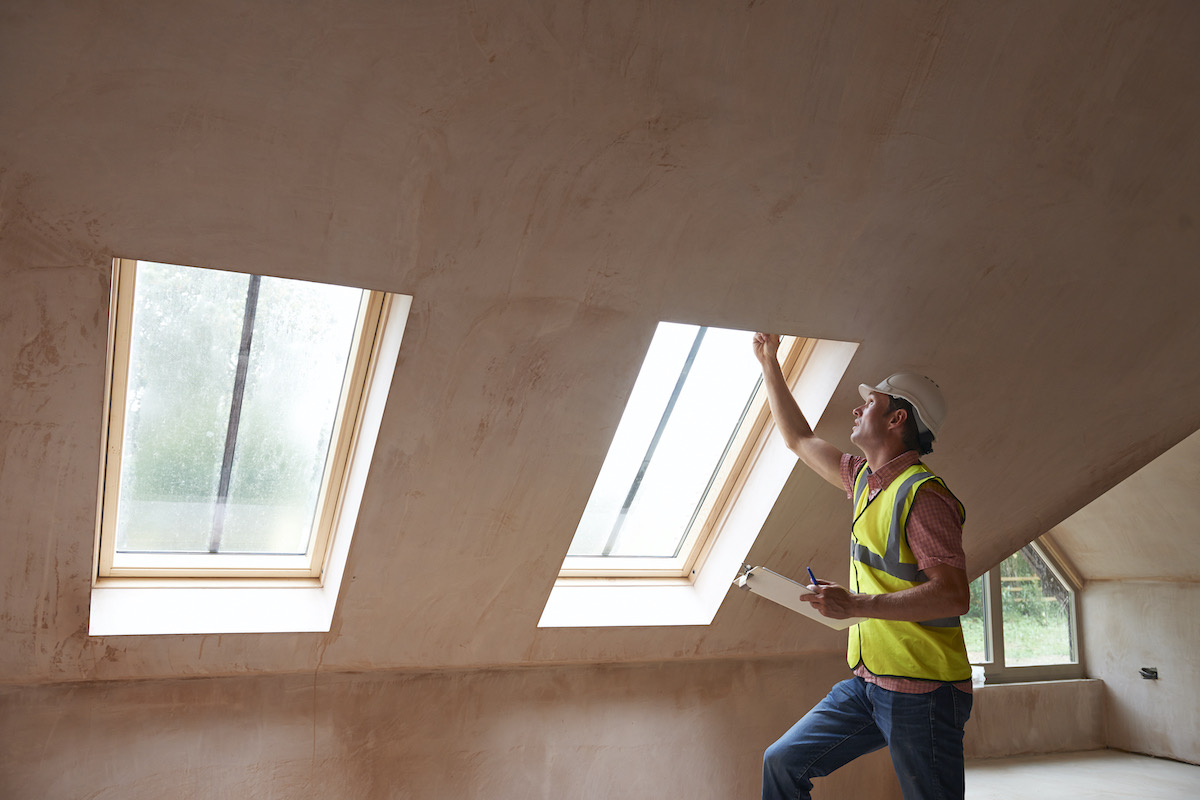 Well, before we answer that, it might be an idea to define what a snag is first. In the most basic of terms, when it comes to building and construction, a snag is simply a defect. Snagging derives from that.
Snagging is a pretty broad term, though, as it can cover both functional and decorative aspects of the home. The vast majority of snags will be superficial, but some can be quite serious, so conducting a snagging survey and creating a snagging list is an essential part of the process.
Wait, does that mean that new build homes aren't checked for defects?
Not at all. New build homes will indeed be checked, both by building regulation inspectors and the housebuilder themselves, but things can still get missed.
These checks are the reason why most snagging lists comprise of cosmetic issues rather than major structural problems. A cracked tile or a wonky cabinet door can be easily overlooked, whereas a huge, gaping crack in the wall will be spotted straightaway.
Who is responsible for compiling the snagging list?
In theory, you are. As the buyer, it's down to you to point out anything you're not happy with, but that doesn't necessarily mean that you have to take on the responsibility of conducting the snagging survey and compiling the final snagging list for your new home. This responsibility can, and arguably should, be passed on to a third party.
You can, of course, go down the DIY route (see the section below on what to look for), but this should only be done if you're 100% confident in your ability to spot every defect and signs of poor workmanship. If you work in the building trade yourself, this will be second nature, but others may find the process laborious and stressful.
Is a new build snagging survey worthwhile?
A lot will depend on what we covered in the section above: do you feel confident enough to compile the snagging list yourself? If you do, great! A snagging survey carried out by a professional snagging company will not be necessary.
For everyone else, employing the services of a professional snagging firm could be a worthwhile investment. Obviously, adding yet another fee to the list when you're buying a property is something you'd like to avoid, but a snagging survey can be well worth the extra expense.
How much does a snagging survey cost?
While this will vary from firm to firm and region to region, a professionally conducted snagging survey will usually set you back somewhere in the region of £500. Some will charge less, others more, but £500 is a good ballpark figure to give you an idea of what the service will cost.
DIY snagging list: What to look for
If you decide to go it alone and check for snags yourself, you're going to need an idea of what to look for. Luckily, we've got a snagging list guide for you right here!
Walls and ceilings
Is the plasterwork smooth and even? Is it neatly finished around pipework and sockets?
Are there any obvious flaws such as bumps or unfinished screw pops?
Do all walls look true? Are they straight and square?
Is there surface cracking larger than the thickness of a 10 pence piece?
Windows
Check frames for damage, scratches, etc.
Do the windows open and close as one would expect?
Are trickle vents present? Do these open and close properly?
Is the glass free from cracks, scratches, paint?
On windows with locks, do they work correctly? Are the keys in place?
Do bedroom windows all comply with building regulations regarding evacuation in the event of a fire?
Do all low-level windows have safety glass with a BS Kitemark fitted?
Are the windows neatly sealed? Check for gaps between the frame and wall
Floors
Are they level?
Is the screed free from cracks?
Have the edges been sealed to prevent draughts?
Where floorboards are present, do they creak? Have they been properly secured?
Doors and doorframes
Do all doors open freely and shut properly?
Are all doors secure when shut and free from rattling?
Is the gap between the door and its frame even all the way round?
Do locks and latches work correctly? Are all keys present?
Do hinges work without squeaking?
Are handles smooth to operate?
Are all hinges and handles free from paint?
Are door stops fitted where required?
Are external doors fitted with draught proofing?
Stairs
Is the staircase properly secured
Are all handrails and spindles secure and stable?
Are all handrails and spindles free from damage?
Are the treads level?
Do the treads creak or groan when stepped on?
Are the spindles spaced evenly? Is there less than 100mm between each one?
Is the handrail at the correct height? (900mm)
Is there adequate headroom?
Paintwork
Has everywhere been decorated?
Are all painted areas blemish-free?
Are there any unsightly paint runs?
Has every painted area been properly prepped before paint was applied?
Have the underside of all window sills been painted?
Have all architraves been properly painted?
Have all skirting boards been properly painted?
Is the paintwork free from damage?
Pipework
Are all pipes secure and free from leaks?
Have exposed pipes been painted?
Have walls been made good where pipes enter and exit?
Have units been cut neatly to allow access for pipework?
Are soil pipes and vent pipes properly connected?
Has all of the relevant pipework been adequately lagged?
Fixtures and fittings
Have all fixtures and fittings been fitted correctly?
Are all relevant fixtures and fitting working as they should? (Do the taps work, for example)
Are all fixtures and fittings clean and undamaged?
Do all cabinet / cupboard doors open and close properly?
Have all cabinet / cupboard doors been hung correctly?
Lighting
Do all lights work?
Is the lighting adequate?
Are wet area spotlights compliant?
Are wet area light switches compliant?
Is there under-cabinet lighting in the kitchen? Does it work?
Have all light switches been fitted correctly and switch uniformly?
Heating
Does the heating work?
Do all the radiators, bar one, have thermostatic radiator valves (TRVs) fitted?
Are all radiators fixed securely to the walls?
Are all radiators and their pipework free from leaks?
Are all radiators and their pipework free from damage, chips, and paint splashes?
Does the boiler have adequate clearance if situated inside a cupboard?
Has the wall around the boiler been made good after pipework and flue were fitted?
Do you have the relevant user manuals for all heating appliances in the home?
Do you have a gas safety certificate?
Plumbing
Do all of the taps work?
Does the toilet flush?
Is the washing machine properly fitted and plumbed?
Is the dishwasher properly fitted and plumbed?
Is the stop cock easily accessible and labelled?
Are there any unnecessary dead legs visible?
Are water tanks and pipework properly insulated?
Electrics
Do all electrical sockets work?
Do all TV sockets work?
Do all phone lines work?
Are all electrical sockets uniform in appearance?
Are all electrical sockets at the correct height and level with one another?
Are all electrical sockets fitted level?
Is the fuse box fitted correctly and fully labelled?
Are there smoke alarms present? Do they all work?
Are there carbon monoxide alarms present? Do they all work?
Is the heating thermostat fitted correctly and easily accessible? Is it in the right position? (i.e. not above a radiator, in the kitchen, or near any other heat source)
Are fan isolators present and fitted at high level outside all bathrooms and toilets?
Do you have an electrical safety test certificate?
Appliances
Do all supplied appliances work correctly?
Do all supplied appliances have the necessary accessories, user manuals, and guarantees?
Do all supplied appliances have correctly labelled switched spurs? Are they fitted with the right amp fuses?
Are all supplied appliances free from damage, marks, chips, and paint splashes?
NOTE: The above checklist should serve as a guide and is by no means complete. The defects listed here are some of the main snags found in new builds, but that doesn't mean others won't be present in your new home.
If you are in any doubt about your capability of conducting an adequate snagging survey, you should seriously consider hiring a professional snagging company to carry it out for you.
Can housebuilders refuse to fix snags?
So, you've conducted a new build snagging survey and handed the snagging list over to your housebuilder. All plain sailing from here, right?
Well, it should be, but that's not always the case. Some of the defects you find may be questioned by the builder. You might think they are at fault, but they may say otherwise. They do, however, have a responsibility to put things right if the defect in question doesn't meet the standards laid out by their warranty.
Treat your dealings with the housebuilder as you would any other negotiation and be open to a little give and take. You may not be able to get everything on your list resolved, so prioritise and push for the essentials should you hit a stumbling block.
Another way to approach this is to preempt any problems you may have with the builder. Seek advice from your lawyer before the snagging survey begins and explain to them that you intend to instruct a new build inspection. Treat this as an adjunct to your contract and ask for confirmation in writing from the builder that all defects will be made good.
Remember, too, that your warranty provider will be able to offer a free resolution service should communication really break down between yourself and the builder. The most common warranty provider used is the National House Building Council (NHBC) and builders will usually acquiesce if they are brought in.
That's it for another week. We hope you found this guide to compiling a new build snagging list helpful and informative.
If you are just browsing the Internet for information on buying a new build property and have stumbled upon this article, you might want to read this post next: Why Second-Hand Properties Offer The Best Value
Although the thought of a brand new home is an attractive proposition, there's a lot to be said for buying something a little older when it comes to property. Go check it out and see what you think!
If you're looking to move home in or around the capital, we can help. Petty Son and Prestwich have been making property dreams come true since 1908, and our family run business is one of the oldest estate agents in East London. We have helped countless families and individuals move home over the years and we'd love to help you, too.
Give our friendly sales team a call today to see why we stand out from the crowd.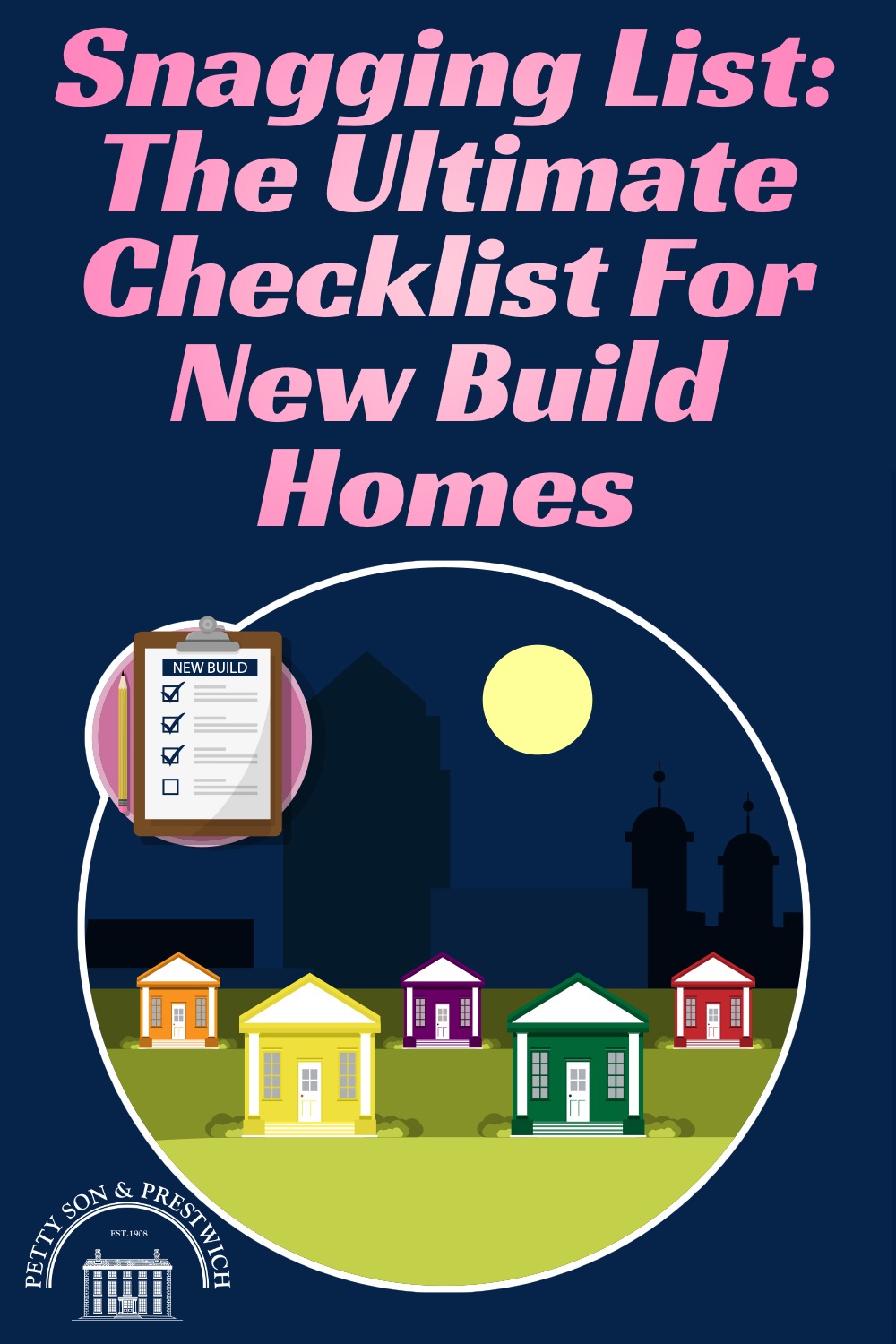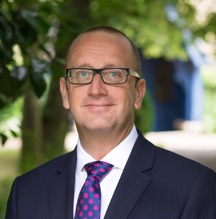 Article By: John Wagstaff
As Petty's MD, John steers the ship. He is, however, first to admit that the team around him run the show, and he's incredibly proud of each and every one of them. Sporty and studious, caring and loyal, John is a father of two wonderful children (and Cooper the dog).
020 3370 8784 /
Email Directly