The reasons why homeowners ask this question are too numerous to mention, which is why so many people start quizzing themselves over the whole move or improve conundrum. From simply needing more space to wanting a more modern home and everything in between, the 'renovate or relocate' quandary is a poser thousands will face every year.
So, what's the deal? Is there a straightforward. one-size-fits-all formula that will solve the dilemma once and for all? Unfortunately not, dear reader, but there are a few things you can ask yourself to get a better idea of whether 'do up' or 'sell up' suits you best.
Before we list the things you need to consider, let's quickly run through the pros and cons of both moving and improving:
Moving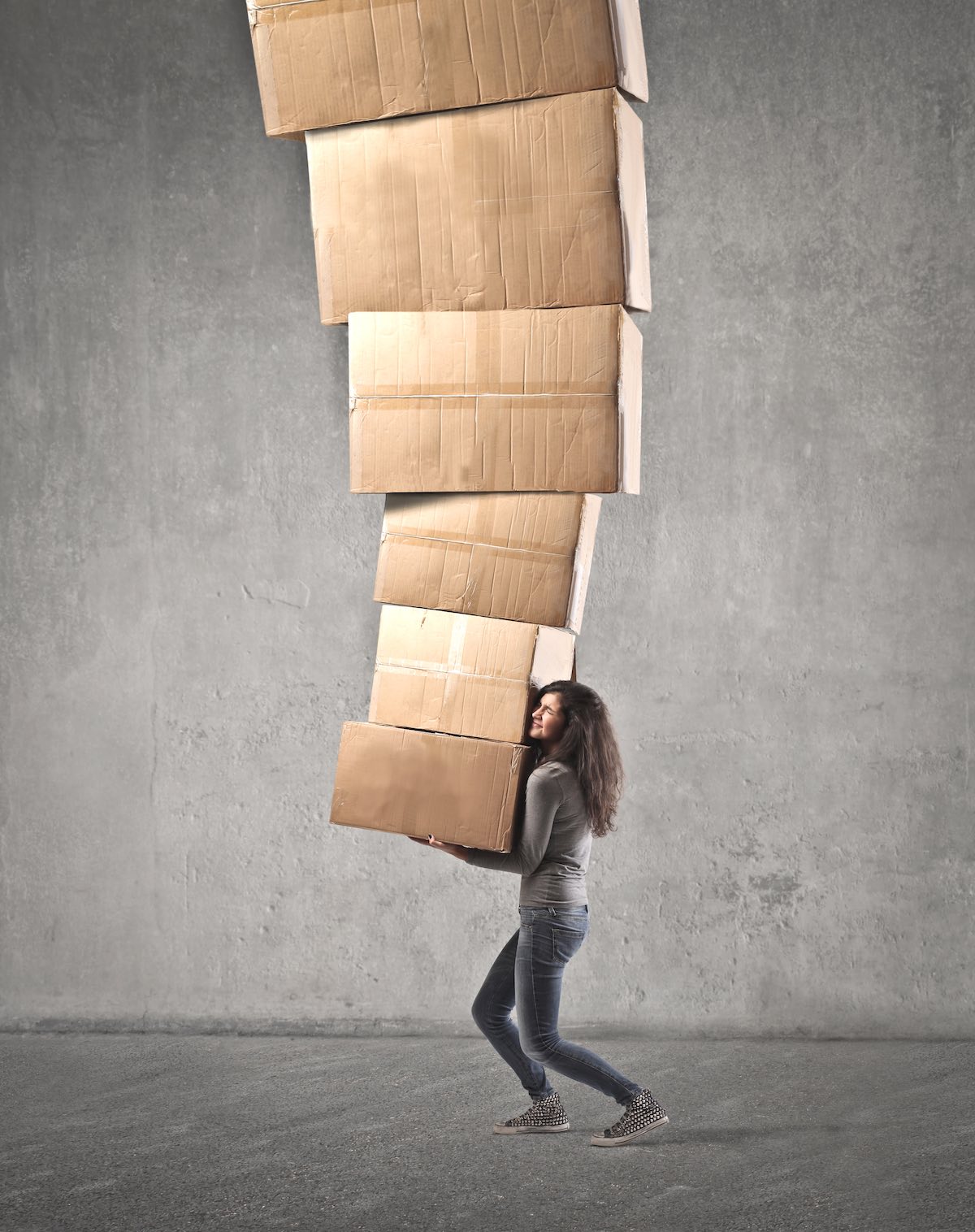 First up, let's deal with moving home:
Pros
A fresh start - Moving to a different home can often feel like a new beginning. Not only will your home be new to you, your immediate surroundings and the people you meet will be, too. All of this can be good for the brain - novelty builds neurons, after all.
The choice is yours - Providing you're not under pressure to move immediately, you can take your time and look for the right property in the right area with the right amenities nearby.
No contractor chaos - This is a big one, and probably the main reason why people choose to up sticks rather than renovate. Having builders in your home while you're still living there is no fun and a major inconvenience.
Tax efficient use of funds - While this certainly won't apply to everyone, for those with a nest egg or a recent windfall, moving home can prove to be a tax efficient way to make use of your money. Upsizing your home with a mind to downsizing at a later date gives you a great chance of cashing in a tax-free lump sum, as at the time of writing there's no tax payable on the balance of a downward move. While this is essentially playing the market, and markets can of course go down as well as up, many are seeing this as a smart play after three years of stagnation - especially with the possibility of a Brexit bounce on the horizon.
Cons
Your work may not be over - Not everyone who moves will be lucky enough to find a property that they can simply put their belongings into and have done with it. In fact, for many, the work begins once they move in.
Moving home can be costly - It's an unfortunate truth: moving home isn't cheap. Once all the various fees have been paid and the Chancellor has wrestled his stamp duty from your purse, the final amount can easily run to five figures.
Leaving can be tough - Even if you're moving just a few streets away, sometimes leaving a place you've lived in for many years can be an ordeal. Lovely neighbours, close proximity to the station, shops, or school, can all make it hard to leave.
Improving
Time to turn to the flipside - the pros and cons of renovating your home:
Pros
Renovating will cost less than buying a new home - Don't get us wrong, making major changes to your property is by no means cheap, but when it comes to side-by-side comparisons, doing up your current home will win out over buying a new one.
Value maximisation - If there are things that can be improved, doing so will add value to your property. This will give you the best return on investment, in terms of capital growth, should there be an uplift in the market.
You already know the area - Providing you're happy where you are (and we're going to assume you must be if you're considering renovating), staying put can be a huge tick on the pro-renovation side of your move or improve balance sheet.
You can really make your home your own - While we always advise sellers not to go too crazy with personalised customisations, deciding to improve your current property does allow you to really put your stamp on your home.
Cons
The process is far from fun - While it may be exciting to plan and dream of what you can do with your current property, in reality the actual work side of things can be extremely stressful. Many choose to move out entirely whilst the renovation is being completed, but that's not always possible or practical.
The new can make the old look really old - If you're planning on adding an extension to the property, or even remodelling your kitchen or bathroom, it's worth bearing in mind that the addition of a brand new part of your home can often make the rest look very tired indeed. This can often lead to more work and more expense further down the road.
Projected costs are very rarely final costs - For whatever reason, renovation estimates are invariably wide of the mark...sometimes they are not even in the same ballpark! Be prepared to go over budget.
Planning pains - Many home improvement tasks will require planning permission, which can be a mission in itself. If you have your heart set on a basement conversion or a huge extension, you'll need to ready yourself for a fight.
You might upset the neighbours...for good - While most people will be understanding, some won't be...and those grudges can last for years. Large scale building work isn't just an inconvenience for you, it can also be a huge upheaval for your neighbours, too. Are the people living next door tolerant enough to cope with all the mess and disturbance?
Questions to ask before making your final decision
Now we've had a look through the pros and cons of both moving and improving, you might already have an idea of which way you're going to go. To make sure your final decision is sound, though, ask yourself the following questions:
Do I really want to move?
This may sound daft, but many people act impulsively, even with huge decisions like moving home. Knowing whether or not you're really ready to move is vital and should be the cornerstone of your final decision. If you're in any way unsure, staying put - even if it's just for now - is likely to be the right decision.
Conversely, however, if you are absolutely certain that you want out, moving home is your only real option. Doing up your current home will not make the neighbours nicer or put you closer to friends, family, the kid's school or the local shops or station. No matter how grand the renovation, if you're already unhappy where you are, this is unlikely to change with the addition of a shiny new extension.
What is my budget telling me?
Regardless of whether you decide to move or improve, you're going to need money...and not an inconsiderable amount, either! Do you have the funds in place to follow through with your decision?
Moving home will incur a lot of 'dead money', such as fees and charges, but renovation work will require a huge outlay as well. While it's certainly true that improving your home is an investment rather than a cost, you will only reap the reward from it if and when you sell.
Many homeowners choose to remortgage in order to fund their renovation work, but the additional financial burden month after month can weigh heavy, especially if it's not properly budgeted for in the beginning. Run the numbers and listen to your gut here...do not enter into a project you can ill afford.
How important is your current location?
This is something we touched upon in the pros and cons, but it's worth reiterating. If you love your current location but need more space, then a renovation may well be the way to go.
So many factors come into play where location is concerned and it can be hard to find a home situated in an equally perfect place. This is especially true in the short-term, as you memories will be strongest when you first move, but sometimes you'll never grow to love your new location quite as much as the one you left behind.
If you are close to family and friends, have great access to public transport and local amenities, get on with your neighbours, and have everything else in place, staying put and making improvements is a safe bet.
Is your property actually suitable for renovation?
This is a surprising question for some, but not all properties are able to be renovated in the ways their owners want them to be. Some may have already pushed the boundaries, so will be unlikely to gain planning permission, while others will lose character and charm once changes have been made, often causing the homeowner to fall out of love with the home altogether.
Knowing just what can and can't be done should be considered before making a final decision. Talk to a property surveyor or an architect to get professional advice.
Can you do both?
Yes, it's an option...and it's one that is gaining in popularity. Many homeowners are now making major home improvements with the sole intention of selling up and moving to pastures new.
As we discussed in our 9 High ROI Home Improvements article a while back, making changes can be as good as money in the bank. If you're willing to go through the hassle of renovation and have the time to do so, improving your home with a mind to sell could up the value and desirability of your property considerably.
Choosing this route will increase the interest level from prospective buyers once work has been completed and could help you raise enough funds to put yourself in a better position to move at a later date. Definitely worth considering if you are in a position to do so.
Final thoughts
So, to move or improve will depend on a number of different factors, as you can see. A large part of your decision will be financial, but don't overlook the emotional aspect either. Some ties are hard to cut, and replacing them can be difficult, if not impossible.
It's also important to talk with all concerned in your decision, including children. Everyone will be affected by the route you decide to take, so you should at least pay them the courtesy of allowing them to have their say. Go through all the pros and cons together to see if you can find common ground to base your final decision upon.
Finally, remember that Petty's are here for you should you need our help. We have over a century of experience in the property market and would love to help you move if that's the road you decided to go down. Give our team a call to discuss your options, or simply to ask any questions you may have. We'd be delighted to hear from you.