Can I use the equity I've accrued in my house as a deposit on a new property?
It's one of those questions that seems so straightforward you end up questioning whether or not you actually know the answer. Even if you are sure, there are further queries that spring to mind. How much equity do I have? What are my options for releasing it? Can I use the equity to invest in buy-to-let?
Let's find out the answers.
Can you use equity in your property as a deposit on a new home?
In short, yes you can.
In fact, this is by far the most common way people make use of the equity they have built up in their homes. By using the equity as a deposit, you'll lower the amount you'll need to borrow for your new mortgage, thus lowering your loan to value (LTV). In turn, you'll have a much broader choice of mortgage products available to you, which is always a good thing.
Borrowers with an LTV at the lower end of the scale can secure the cheapest mortgages.
Property equity: An overview
Now that we've got the big question out of the way, let's take a quick look at what equity actually is.
The simplest way to look at it is as unsecured profit, as it is basically the difference between the market value of your home and the amount you still owe on the property. The reason why it is unsecured is because you haven't sold your home yet, so things can change. Property prices can go up or down, or you may pay off more of your mortgage before you actually release the equity you've accumulated.
There is, however, a yin to this yang.
Negative equity.
As we're discussing whether or not you can use the equity in your house as a deposit, we're naturally talking about positive equity. On the flipside, when you owe more on your mortgage than the value of your property you are in negative equity. This can happen when house prices drop dramatically, and certain areas can have disproportionate amounts of homes in negative equity thanks to changes in local property markets.
If you find yourself in negative equity, moving home or remortgaging your property can be extremely difficult.
How to find out if you have accrued any equity in your home
The formula for working out property equity is incredibly straightforward, but you need to have the correct figures to hand before you can begin your calculations.
The (rough) value of your property can be ascertained by doing a little bit of online research. Jump onto Rightmove, Zoopla, or any other property portal and search for similar properties that have recently been sold in your area to get yourself a guide price. Alternatively, you could call a reputable local estate agent and get your home professionally valued or use our free online valuation tool.
For the amount left to pay on your mortgage, you have two options: check your latest mortgage statement or call your lender. Most lenders only send mortgage statements out once every 12 months, though, so if your latest one isn't all that recent, you'll be better off calling them for a balance. The more accurate your figures, the more accurate your answer.
With these two numbers in hand, simply subtract the amount you owe from the value of your property to work out how much equity you have.
6 ways to release equity from your house
If the result of your calculation shows that you are in positive equity, you might now want to know how to get your hands on it.
Below are six ways in which you can do just that. The first two options are for those looking to move home, while the remaining four are simply alternative methods of borrowing against the money you've accumulated in your home:
Use the equity as a deposit on your next move
Use the equity to buy your next home outright
Remortgage your home
Obtain a second charge mortgage
Take out a further advance loan
Access equity via an equity release scheme
Can I use the equity as a deposit on a buy-to-let property?
Again, the answer is yes.
Provided you have built up enough equity in your primary residence (your residential home), you can then release that cash in order to put down a deposit on an investment property. Buy-to-let homes usually require greater deposits than residential property, so you'll be looking at somewhere in the region of 15 to 25%. This is a key reason why equity is so frequently used to fund investment projects.
Even a £100k BTL investment would require £15,000 to £25,000, and releasing equity is quicker and far less painful than saving a deposit of this magnitude from your wage packet each month.
Regardless of whether you're buying, selling, renting, or letting, if you are looking to make a move on the property market in or around London, Petty's can help. We have been assisting people just like you to realise their property dreams for well over a century, and we'd love to help you too.
Give our friendly team of experts a call today to find out why we're the capital's favourite estate agents.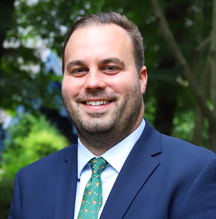 Article By: Gregory Moore
Gregory has been in the industry for 12 years. He has an innate ability for negotiation and management, which makes him an immensely valued part of the team. He's also an enthusiastic fisherman who puts his family, and Shih Tzu, Elmo, first.
020 3370 8782 /
Email Directly