Buying your first home is an exciting time, but it's not without its trials and tribulations. One hurdle first-time buyers will face is obtaining a mortgage, and most prospective homeowners will have at least a couple of questions about the process.
In today's post, we'll offer up some sage mortgage advice for first-time buyers, covering topics ranging from eligibility to affordability.
Let's get started, shall we?
First-time buyer eligibility
Before we go any further, it's important to define exactly what is meant by a first-time buyer. This may seem like an incredibly straightforward thing to explain, but there is nuance to who qualifies as a first-time buyer.
For example, if you intend to buy your first home together as a couple, but one of you has previously owned property in the past, you will not be eligible to purchase a home together as first-time buyers. Similarly, if your parents are going to buy the property for you, they will not be able to 'use' your first-time buyer status if they have bought a home before.
Click this link for more on who qualifies as a first-time buyer.
What types of mortgages are available to first-time buyers?
The range of mortgage types available to first-time buyers is fairly broad and a lot will come down to personal choice when deciding which one will be best for you. While there are further choices to be made once you decide which path to take, first-time buyer mortgages can largely be split into two camps: repayment and interest-only.
In the vast majority of cases, repayment mortgages are the way to go. In fact, it's becoming more and more difficult to get an interest-only mortgage anyway, so you may find that the decision is made for you.
Our article on all the different mortgage types available to UK property buyers takes a deep dive into each, explaining their key differences and all the various deals that can be taken out with most high street lenders.
How much deposit do I need as a first-time buyer?
First-time buyers can purchase property with as little as 5% deposit, but that doesn't automatically mean that should be your target. For anyone taking out a mortgage, regardless of whether it's their first or not, a bigger deposit will always be better.
The reason for this is simple: Bigger deposits from buyers equals less risk for lenders, and that means you'll open up more mortgage products as a result. This equates to greater access to competitive rates of interest, which ultimately results in less money paid over the duration of your loan.
A desire for bigger deposits is one of the main reasons why the Bank of Mum and Dad has become so popular in recent years. For those lucky enough to have parents in a position to help out financially, increasing their deposit amount at the start of their journey into home ownership makes perfect sense.
Working out affordability
Before they agree to hand over their money, lenders will perform what is known as affordability checks on all mortgage applicants. Knowing this, it makes sense for all buyers to run their own numbers before applying to ensure they can indeed afford the repayments and avoid being declined when they do submit their application.
There are numerous ways you can do this, but by far the easiest is to use an online affordability calculator. Type 'mortgage affordability calculator' into your favourite search engine and select one from the results. This will give you a ballpark figure to work with.
It's important to remember, however, that there are other costs associated with buying a home and affordability calculators rarely take these into consideration. Both upfront and ongoing costs should be looked at to ensure that you can meet the required repayments every month. These include, but are not limited to:
Surveyor's fee
Valuation costs
Legal fees
Estate agent fees
Removal costs
Home improvements
Council tax
Utility bills
Running costs
Maintenance and repairs
Insurance
How to improve your chances of getting a mortgage
Not so long ago, lenders were falling over themselves to offer mortgages, but not any more. Nowadays, buyers have to meet increasingly stringent criteria that goes above and beyond simply having a large enough deposit to satisfy mortgage providers' needs.
As well as conducting the aforementioned affordability check, you should also delve into your credit rating to see if there's anything untoward that requires your attention. Getting yourself on the electoral register, if you haven't already done so, can help as well.
Simple adherence to basic money management best practices will stand you in good stead, too. Things like never withdrawing cash on your credit card, never taking out payday loans, never missing payments, never using your overdraft, will all improve your chances of being accepted, as all are deemed red flags by mortgage underwriters.
Applying for a first-time buyer mortgage
Applying for your first ever mortgage can be a nerve wracking process, but you can significantly reduce your stress levels by following a few simple steps. This process can be quite in depth, so we produced a standalone guide to applying for a mortgage on our blog. Go check it out when you're ready to proceed to the application stage.
Stamp duty and first-time buyers
As we discovered in our post on who pays stamp duty, first-time buyers may be exempt from paying this tax…but not always.
For instance, if the purchase price of your first home comes in at £500,001 or above, you will be liable to pay the full rate of stamp duty when you buy the property.
Help to Buy for first-time buyers
If you can only raise a 5% deposit, the government's Help to Buy equity loan scheme is worth investigating.
Help to Buy offers first-time buyers an opportunity to purchase a new home by way of a five year interest-free loan of up to 20% (or 40% if you are buying in London) of the property's purchase price. To qualify, the home must be a new-build property and its value must fall below the maximum property price stipulated by the government.
For more information on the scheme, and the regional price caps for each area, check out our full Help to Buy guide.
That's it for this week, we sincerely hope you found this guide to applying for your first mortgage helpful. If you are looking to buy your first home in or around London, we can help.
Petty Son and Prestwich have been making property dreams come true since 1908, and we'd love to add you to our ever-increasing list of happy, satisfied customers. If you have any questions you'd like answers to, or would like to register your interest as a buyer, please do not hesitate to reach out to our friendly sales team.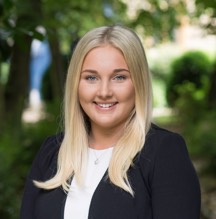 Article By: Francesca Creasey
Francesca has been with Petty's for seven years and has progressed to become our Office Manager, overseeing the daily events and planning what lies ahead for the team each day. She is an F1 obsessive and loves dogs...there are eight pooches in her immediate family!
020 3370 8789 /
Email Directly