If you've picked up a newspaper or tuned in to one of the 24hr news channels over the last couple of months, you will have noticed that the UK's interest rate is a hot topic at present. Whenever a subject such as this slips from the financial pages into the mainstream news you can rest assured something is afoot, but what exactly is going to happen to the base rate in both the short- and long-term?
Obviously, nobody knows for certain where rates are going to go or end up (it's all speculation, after all), but what we can do is give you an educated guess drawn from all the information we have at our disposal. So, let's take a look at both, starting with the short-term forecast.
When will UK interest rates rise?
In a recent announcement, Mark Carney, Governor of the Bank of England, reiterated his position which states that, if economy stays on track, interest rate rises can be expected in the near future.

The question is when exactly is the near future? Many analysts are suggesting the next Monetary Policy Committee (MPC) announcement, scheduled for November 2nd, 2017, could well be the time for the first in a series of hikes. The betting exchanges seem to back this up, with an increase to 0.5% the clear favourite at the time of writing.

There are, however, dissenting voices crying out to be heard too. Where current opinion seems to be pointing towards a November rise, others think that the MPC may just hold off for a little while yet. They point to a need to further support the economy - which is largely showing strength thanks consumer borrowing and not much else - as we edge towards 2018. This is despite recent reports showing lower unemployment figures and stronger inflation, which would ordinarily be indicators of an interest rate rise.
The base rate hasn't been increased since before the financial crisis in 2007, and the majority of economists seem to think the time is now right for an increase. So, whether it happens in November or early next year, the forecast for the next six months is that the BoE will up interest rates to 0.5%, with more incremental rises to follow.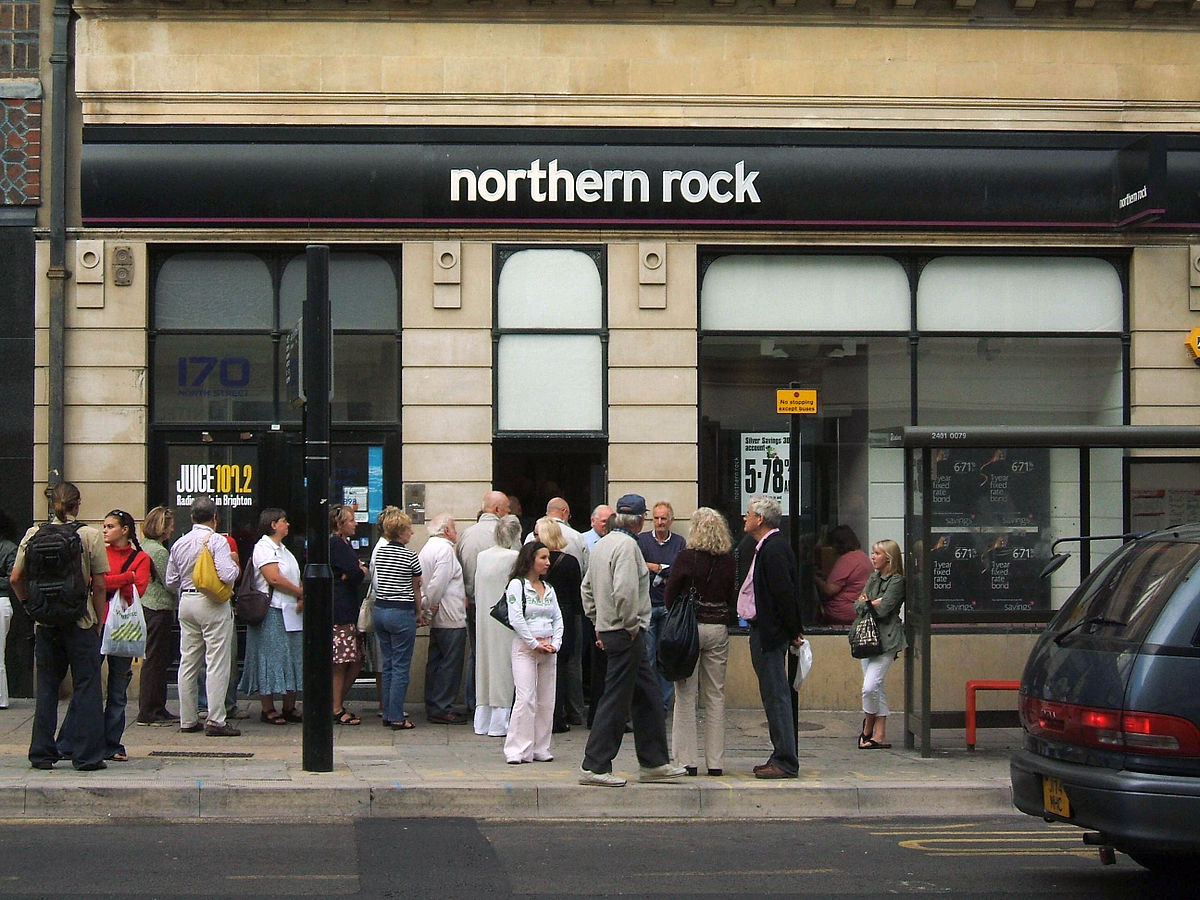 By Dominic Alves from Brighton, England (Northern Rock Queue) [CC BY 2.0 (http://creativecommons.org/licenses/by/2.0)], via Wikimedia Commons
What about longer term? Where will UK interest rates be in five years time?
If predicting where interest rates will be in six months time is difficult, getting a handle on what they'll look like by 2022 is a pretty thankless task. Five years is a long time, and there are lots of things that can influence the MPC's decision to raise (or lower) the base rate. Would you have forecasted a Brexit back when London 2012 was in full swing? Probably not.

That being said, economists love to predict, so there's plenty of speculation out there to trawl through. Given where interest rates stand at present, there's a definite trend towards an uptick in the base rate, so the real question is, by how much?

At the upper end of the scale, some analysts are forecasting a rise to as much as 3 per cent by 2020, with a weak pound and rising inflation at the heart of their predictions. Many are also concerned about the ongoing EU negotiations, which could have an impact on the forecasted growth for 2018 and have a lasting effect that will linger long into the 2020s.

Others aren't quite so pessimistic, but it would appear that the BoE base rate will still see a marked increase on today's levels. The common consensus seems to be that UK interest rates will be somewhere in the region of 1.25% by the time we hit the end of 2022.
What does all this mean for mortgage holders?
Judging by what is being speculated, if you are in a position to lock in one of the outstanding rates available at the moment you should really do so, and quickly. As we mentioned above, the smart money seems to be on a base rate rise of 0.25% in November, and many expect more to follow. So, taking out a five year fixed term seems to be prudent given the information available and the noises coming from those at the top of the BoE.

If you would like further advice on what mortgage deals are available, we recommend speaking to a reputable broker such as David Cade from Clarity Financial Management.